Note: My body looks nothing like these models and I actually tried to get some real-life pictures for you but failed miserably! You'll just have to trust that these undies look amazing on me and my post-baby pooch!
After giving birth, for most women their tummies just aren't the same as they were pre-baby. Even when (if!) you lose all the pregnancy weight, you are often left with what I fondly call my postpartum pooch. Due to this pooch, I've become a diehard fan of high waisted pants that hold everything in and don't cut into my belly. Lucky for me, high waisted pants are in style! If you're curious, my favorites are these jeans and these leggings.
Once I started wearing high waisted bottoms every day I realized just how annoying it was to have a low rise bikini panty and began my search for high waisted underwear that don't look like granny panties. When I told one of my close friends that I would send her a list of my favorites she said that compiling a list would be a public service to moms everywhere and that I should share it with the world, so here we go!
Most Flattering – Knock Out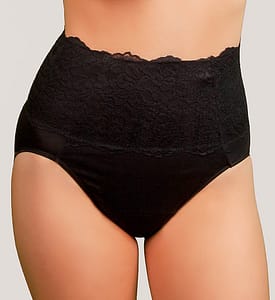 The Knock Out brand is my absolute favorite and my latest discovery. They offer high waisted underwear that feel supportive without looking like granny panties AND without squeezing you so hard you have diarrhea (side eye at girdles and some types of Spanx).
Most Support: My favorites are these high waisted bikinis which come in black or nude. I recommend sizing up one for reference I wear a medium in Hanky Panky and a size 10-12 dress and order a Large in these. They also come in plus size.
Thongs: They also offer this style in a comfy and supportive (HIGH WAISTED!!) thong if that's your thing. I have one nude and one black thong for the rare outfit that looks better without a VPL (visible panty line).
Light Support: They also offer a high waisted option with a little less support—just thin stretchy lace on the top instead of multiple layers of fabric. These are insanely comfortable but I did put a hole in the lace with my thumb pulling them up so just be careful there! They come in a lot of colors if you're the type that likes variety in your underwear drawer! They also come in plus size up to 3X.
Most Comfortable – Hanky Panky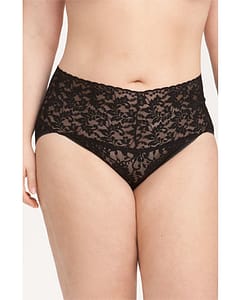 Hanky Panky is known for their skimpy one size fits all thongs but they've actually expanded their line quite a bit and have some lovely high waisted options worth trying out. While they aren't quite as high waisted as the Knock Out brand, they cover the parts that matter if you know what I mean. I like them because they are super stretchy, look sexy on and off (as in they don't look like huge granny panties when they come out of the wash) and they come in tons of gorgeous colors and patterns.
Bikini: My go-to from Hanky Panky is the Retro line specifically the Retro V-kini. It's super comfy, doesn't squeeze you and make love handles and doesn't roll down. It also comes in plus size up to size 24! I'm in love with the leopard print because why the hell not!?
Thong: I also have the Retro thong for those rare occasions when I need a thong. They are actually crazy comfortable (as far as thongs go) and offer the coverage you want with a post-baby pooch. They also come in plus size. I've been lusting after this rose pattern!
Most Feels Like You're Going Commando – Spanx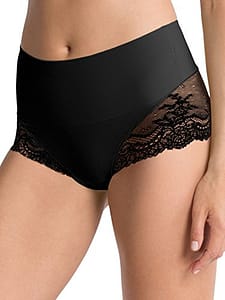 My days of squeezing into Spanx are long gone but they do have a newer line of underwear that's less supportwear and more just supportive. It's called the Spanx UndieTectable line. My favorite style is this one and it comes in a handful of different colors. The only caveat here is that the sizing is way off in my opinion. I typically wear a medium in underwear and I wear an XL in these to keep them from squeezing me into a muffin top. Luckily Amazon has free returns so you can try a couple sizes if you want. They also make a plus size option in tons of fun colors.
For That Time of the Month – Period Panties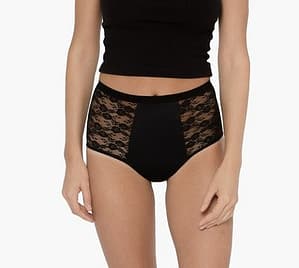 I finally invested in some period panties from Thinx this year and love the hi-waisted option. When I bought mine the side panels were made of lace and they've since changed the style to be mesh but I'm assuming the fit is the same.
I ordered mediums and they fit but I wish I'd gotten large because there's a tiny bit of muffin top with the mediums. They also go up to size 3XL.  
I'm totally a period panties loyalist now (also a menstrual cup loyalist!)—it's so nice to not have to worry about a leaking tampon overnight (or during the day) and I especially love them for the last day or so of my period when I'm really just barely spotting and don't want to deal with panty liners. I could see them being really helpful for pregnancy as well when you're producing so much extra cervical fluid.
* This post contains affiliate links and if you click a link I will receive a few cents at no cost to you. As always all opinions are my own and I have personally tried all of the products mentioned and use them daily!