To listen to this episode, and hundreds more birth stories in The Birth Hour archives, join our listener supporter Patreon here!
When Danielle and Sam conceived in early July, 2019, they didn't realize the journey that was planned for their first child's birth. The COVID-19 pandemic began to hit the US in force in early March, 2020, causing concern over the birth plan for Danielle's March 28th due date. The original concerns were what many expecting parents currently worry about, "Will my partner or support-person be allowed in the room?" "Will my doula be allowed there?" However, on March 22nd, all those concerns changed.
Sam took a nap due to having a headache. His Apple Watch woke him up stating his heart rate was high (120-140bpm). Sam has a history of his heart beating too fast in a different rhythm so this was obviously concerning. Not wanting to, but knowing it had to happen, Danielle drove Sam to the ER and sat in the car in the parking lot, since visitors weren't allowed while he was treated for dehydration to lower his heart rate. It was then when they discovered Sam had a fever; he was told they didn't think he had COVID-19 but they did send out a viral panel for flus and other viruses. He was later released that night from the ER to go home.
Monday and Tuesday Sam didn't feel great but didn't feel too horrible (headache, low grade fever, fatigue). Tuesday, Danielle had a midwifery appointment and was the only one allowed in the office. She had a check and a membrane sweep (was 4cm, 70-80% effaced) and left to go home. On the way home, the hospital called and said all of Sam's viral panel results came back negative and it was being sent out for a COVID-19 test. Danielle's heart sunk.
Wednesday, March 25th in the evening, the dreaded call came; Sam tested positive for COVID-19. Hours of phone calls later to the midwife on call and Danielle's doula, there were a few plans in place. Plan A: Keep the baby in until 41 weeks when Sam would be off quarantine. Plan B: Sam would be unable to be at the birth and Danielle's doula would stay with her the whole time for their hospital stay. Well, the baby didn't cooperate with Plan A because on March 26th around 4:30am, Danielle went into labor. She labored at home from 4:30am until 3:45pm on the 26th managing contractions and having Sam support with pressure on her lower back and changing positions regularly.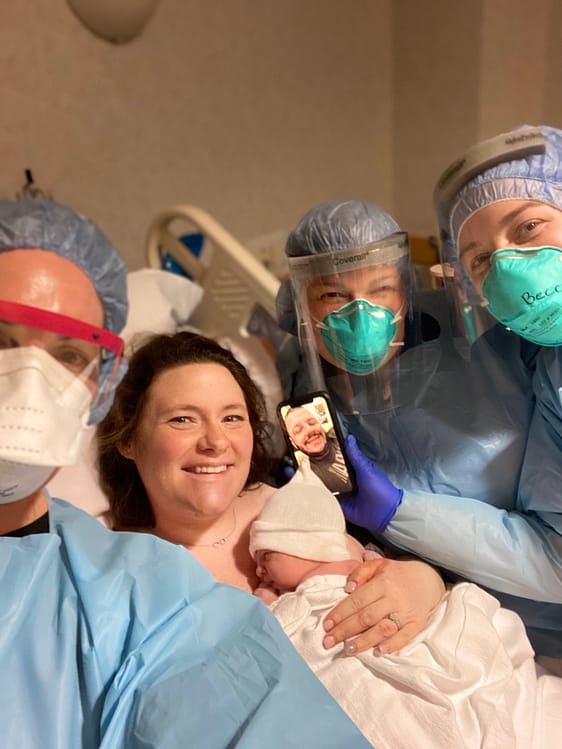 After a call with their doula, it was suggested to head to the hospital as contractions were one on top of the other and very painful. Sam drove Danielle to the hospital where he dropped her off at the front door. Danielle was met by her doula and nurse with a mask to wear because Danielle was presumed positive for COVID-19 since Sam was also positive. Danielle's labor continued in a negative pressure, isolation room in the labor and delivery unit with everyone caring for her and baby in full personal protective equipment. It was during this time that the pediatric provider on call had to provide information on why it was recommended mom and baby be separated at birth. Danielle and Sam declined this and a waiver was signed.
Sam was present for the labor and delivery via FaceTime. Danielle continued to labor in the tub and then moved to the bed. She labored unmedicated through it being time to push (around 12:00am on March 27th). Danielle pushed from 12:30am until 2:32am when baby was born. Danielle and Sam didn't know the sex before so it was then announced that their baby was a girl, named Eleanor. Danielle and Eleanor stayed in the hospital for a little over 28 hours until being released home. Sam picked Danielle and Eleanor up and met his daughter in person for the first time. They're now recovering at home, riding out the isolation period for COVID-19.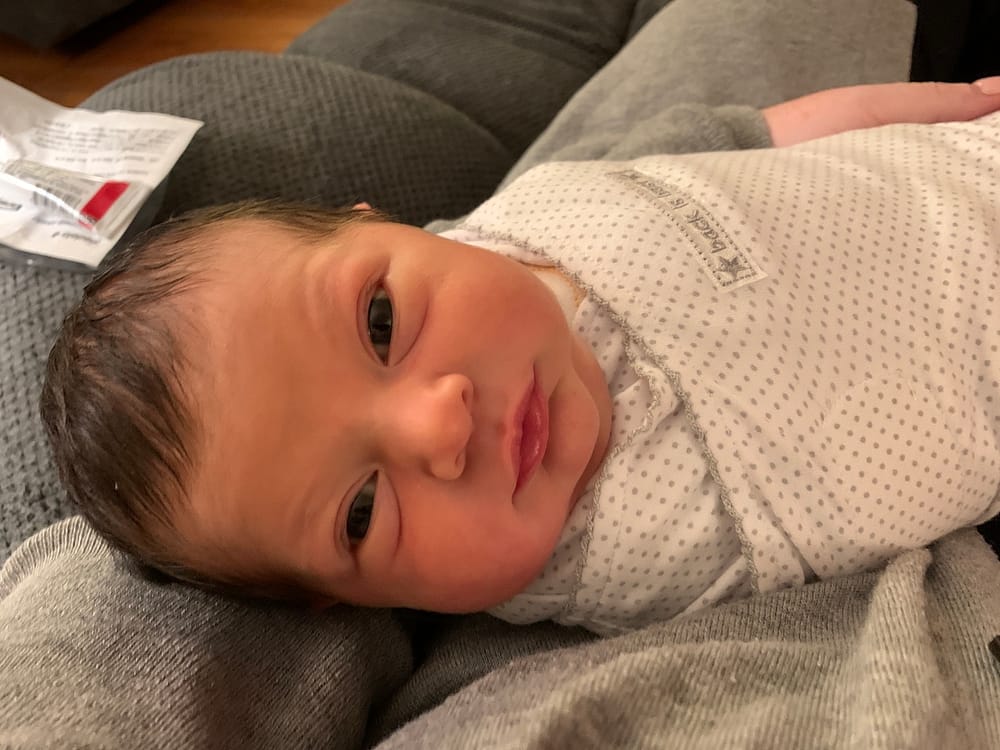 Danielle Stone Bio
Danielle is a 28 year old living in the Springfield, Massachusetts area. She works full time as a Program Director for a community mental health agency in the mental health crisis division. Danielle is married to Sam, 29, from Retford, England. Sam works as a director at a local child care agency. Danielle and Sam met at summer camp in 2014, dating long distance for about one year, and Sam moving to America in September, 2015 to study his masters degree. The couple got engaged in August, 2016 and married in October, 2018. They now live together with their new baby, Eleanor (10 days old on April 6, 2020), Dog – Harley, and Cat – Ash.
Connect with her on Facebook: Danielle Stone, via Instagram: @Danielle.EK.Stone or by Email: DanielleEKStone@gmail.com
Resources
Aeroflow Breastpumps
Part I of this episode was sponsored by Aeroflow Breastpumps. Aeroflow has helped thousands of new and expecting moms find the perfect pump for her lifestyle. They offer all major pump brands including Medela, Spectra, Motif, Lansinoh, Ameda and more. And the best part, they take care of everything – including getting all required paperwork, dealing with your insurance company, and explaining your options in order to get your free pump shipped straight to your door.
Bonus — you may also qualify for free maternity compression garments like compression socks, maternity support band, and a postpartum recovery garment PLUS breast pump resupply products ranging from new bottles, tubing, and flanges to duck valves and pump membranes.
All you have to do is go to the Aeroflow Breastpumps website and fill out their free and easy Qualify Through Insurance form. Be sure to go to aeroflowbreastpumps.com/birthhour so they will know I sent you!
Motif Medical
Part II of this episode was sponsored by Motif Medical. Motif designs insurance-eligible products for busy moms. With a focus on innovation and empowerment, Motif's line of breast pumps and maternity compression garments are sophisticated, yet discreet, and made to support mothers as they navigate new motherhood. Discover why moms are reporting more milk in less time with the Luna breast pump, and see how you can get it covered through insurance at motifmedical.com/birthhour.