To listen to this episode, and hundreds more birth stories in The Birth Hour archives, join our listener supporter Patreon here!
After experiencing two early miscarriages, Sierra had a hard time connecting to her pregnancy. Pregnancy did not seem to agree with her body with morning sickness throughout and pelvic separation at 20 weeks. With the help of a wonderful chiropractor and lots of self care the journey wasn't all too difficult.
Sierra's plan for birth was a medication-free hospital birth with the help of her doula, but through lots of ups and downs with her care providers she was diagnosed with full placenta previa, requiring a cesarean birth at 37 1/2 weeks. Due to the previa, Sierra suffered a hemorrhage during surgery and had to have a balloon filled with saline placed in her uterus for 12 hours along with being on a high dose Pitocin drip.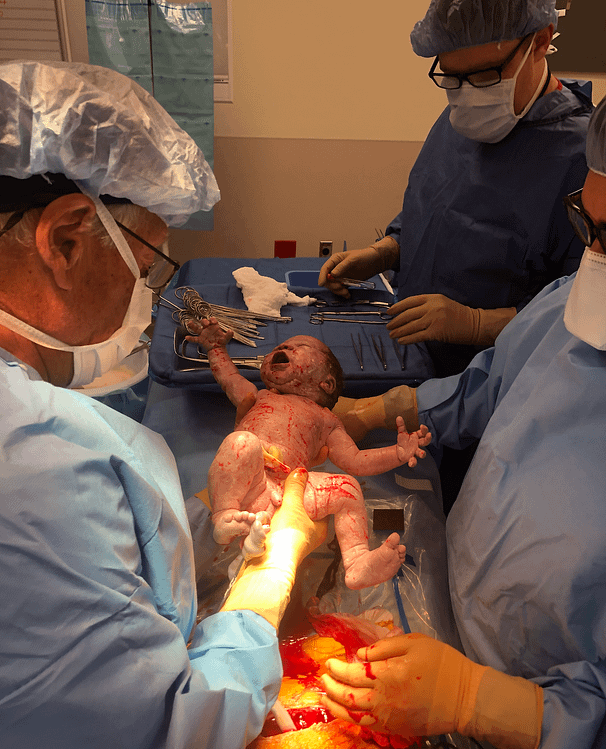 Her son Oliver had trouble breathing at first and had to be stationed in the nursery. The small hospital in her town does not have a NICU, so he was going to be transferred to a hospital 30 minutes away if there was no improvement. Luckily, just 15 minutes before the time they called the transfer, he made a complete turnaround and was able to be reunited with Sierra.
Sierra had a great hospital stay following Oliver's birth and a good recovery. Oliver had some nursing issues, and after consulting with multiple lactation consultants, Sierra decided to exclusively pump which turned out great for both of them. Sierra credits her calmness when issues arose to information she learned on The Birth Hour episodes, her doula, and The Mama Natural's Guide to Pregnancy Book.
Sierra Palmer Bio
Sierra is 26 years old and is married to her her high school sweetheart Justin. They live in Northern California along with their 7 month old son Oliver, three cats, and wiener dog. Sierra is completing a degree in accounting to become a bookkeeper, working as a photo editor for a photography business, and running her lifestyle blog. For fun she and her family love to see new movies, go to the river, and try to find the best food wherever they go. You can connect with her on Instagram @sierrahopepalmer , on her blog themountainandme.blog, or email at sierrahcameron@gmail.com
Resources
Kindred Bravely
Today's episode is brought to you by Kindred Bravely. From adorable maternity wear to comfortable nursing bras, this mom-owned company has you covered. See all of their comfy clothing at kindredbravely.com! I especially love their Simply Sublime nursing tank, their high waisted leggings (for pregnancy AND postpartum), the comfy Jane pajamas, and their high waisted underwear! Listen to the podcast episode for a 20% off coupon code!