To listen to this episode, and more than 300 other birth stories in The Birth Hour archives, join our listener supporter group here!
Birth Summary
After a miscarriage, Anna and Kevin were thrilled to learn they were expecting a baby girl. Anna had a wonderfully healthy pregnancy (for which she largely credits the Pure Barre classes she took up until 41 weeks) and was hoping for an intervention-free birth. Baby girl Maggie, as it turned out, was in no rush to make her big debut into the world; and, as the days passed by without progression, Anna started worrying that an induction was in store and might throw off her birth plans. She ended up having to get induced, but Maggie's birth was ultimately a far faster and better experience than Anna even knew to hope for.
Anna Keller Bio
Anna Keller lives in Winston-Salem, North Carolina, with her husband of six years, Kevin, who's one of the two guys behind the men's grooming company Fulton & Roark (fultonandroark.com). They have a 3-month-old daughter, Maggie, and a boxer mix, Fulton (who's an excellent big brother to his little human sister). Anna works as the Marketing & Communications Manager for a before-and-after-school enrichment company, and also blogs about everything from pregnancy to baking to parenting to fashion at curiouser-and-curiouser.com. Anna also teaches Pure Barre, and introduces women to Beautycounter skincare and make-up products. Connect with Anna: on Instagram: @curiouserandcuriouserblog or her Blog and at the Beautycounter Facebook group.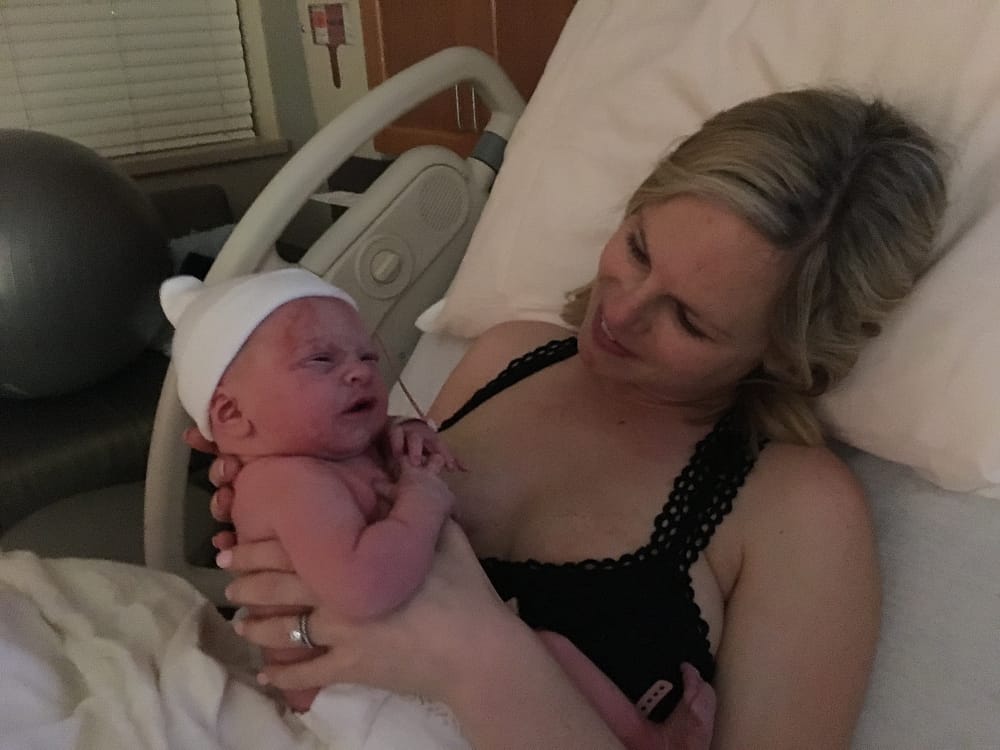 Resources
Pure Barre
Natural Baby Doulas
Baby+Co. Winston-Salem
The Bradley Method
Podcasts: The Birth Hour, The Longest Shortest Time
Placenta encapsulation
Prenatal chiropractic visits
Parenting groups on Facebook
Aeroflow Healthcare – Get Breastpump for free!
The Womanly Art of Breastfeeding
Be Prepared: A Practical Handbook For New Dads
Free Downloads
Choosing an Evidence Based Care Provider
Questions to Ask When Touring Hospitals
Aeroflow Breastpumps
This episode is sponsored by Aeroflow Breastpumps. Aeroflow helps new and pregnant moms qualify for breast pumps through their health insurance. They carry all of the major brands, including Medela, Spectra, Lansinoh, Evenflo, and more. Visit their website to get started today, and your dedicated breast pump specialist will take care of all of the paperwork for you, including getting a prescription from your doctor and filing the claim with your insurance. Go here to get started!