Elizabeth and her wife Kelli found out they were pregnant in the summer of 2019 after their second IUI. Elizabeth had a great pregnancy and continued teaching, practicing yoga, and traveling throughout. She sought all prenatal care at an international hospital in Beijing. Elizabeth and Kelli made arrangements to come home to Michigan in the spring to give birth to their baby, to avoid any legal issues that might come up in China as same-sex parents.
In January, due to the COVID19 outbreak in China, their school decided to transition to online teaching. With that decision, Elizabeth and Kelli moved their flights sooner and arrived in Michigan at the end of January. They rented a long-term AirBnB so that they would have their own space when baby came, and continued to excitedly await baby's arrival while enjoying the extra time catching up with friends and family back home.
Their plan, and Elizabeth's dream, was to have an all-natural, vaginal delivery at the same hospital where Kelli was born. They were feeling positive with all the preparations they had made. The due date came and went without any sign of labor and no dilation, even though baby seemed good and "ready". A few days later, Elizabeth started experiencing contractions and decided to track them on a contraction tracker app. Twice throughout the day the app told her she was in active labor and that she should head to the hospital. Elizabeth thought it was too soon so they waited a while longer. They finally headed to the hospital later that evening and were admitted. While her contractions were strong and regular, she was not dilating at all. The next morning, after nearly 12 hours of laboring with Pitocin and no pain medication, Elizabeth requested an epidural. Contractions continued strong and steady, but Elizabeth was still not dilating as she should have and there were now concerns about the baby's heart rate. Throughout the day, her OB and the nurses decided to try a variety of interventions such as sweeping the membranes, manually breaking her water, assisting her into a variety of different positions, but nothing seemed to help.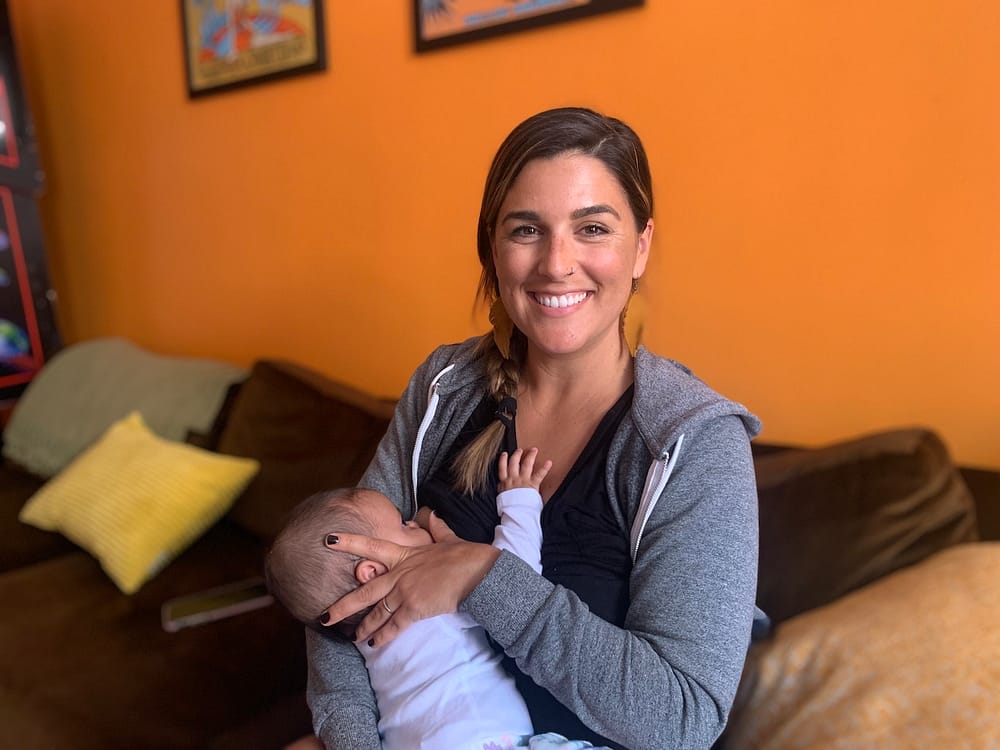 After a full 24 hours in hospital, Elizabeth and Kelli discussed a c-section with their OB and decided to do it. It was the furthest thing from their birth plan but it seemed nothing else was helping and there were now some growing concerns for both the baby and Elizabeth. Elizabeth had never even had surgery before, so the c-section experience wasn't great. But their beautiful daughter, Frankie Adeline, was finally born at 9:23pm on March 23.
The postpartum period was both amazing and challenging. It's hard to have a newborn during a pandemic; breastfeeding proved to be trying; Elizabeth was diagnosed with postpartum depression. With the help of a lactation consultant, seeing a therapist, returning to yoga, and the support of her wife, Elizabeth has been able to bond with her daughter, is enjoying being a new mom, and is on the path to healing.
Elizabeth Tucker Bio
Elizabeth and her wife Kelli are international teachers who met in Kuwait and are currently teaching in Beijing, China. They are new moms to Frankie, born in March on the first day of Michigan's Covid-19 lockdown. Elizabeth loves yoga, reading, and all things organizing. Kelli is an avid runner who has a new-found love for triathlons and completed a full IronMan in Taiwan. Elizabeth can be found on Instagram @liztheeuro and Kelli blogs about their experiences at https://kelliacochran.wixsite.com
Resources
The Birth Hour
Taking Cara Babies
Holliday Tyson on YouTube
@drcassidy (instagram)
@expectingandempowered (instagram)

Aeroflow Breastpumps
Aeroflow Breastpumps has helped thousands of new and expecting moms find the perfect pump for her lifestyle. They offer all major pump brands including Medela, Spectra, Motif, Lansinoh, Ameda and more. And the best part, they take care of everything – including getting all required paperwork, dealing with your insurance company, and explaining your options in order to get your free pump shipped straight to your door.
Bonus — you may also qualify for free maternity compression garments like compression socks, maternity support band, and a postpartum recovery garment PLUS breast pump resupply products ranging from new bottles, tubing, and flanges to duck valves and pump membranes.
All you have to do is go to the Aeroflow Breastpumps website and fill out their free and easy Qualify Through Insurance form. Be sure to go to aeroflowbreastpumps.com/birthhour so they will know I sent you!