How I got started with Young Living
I honestly never take on things like this (The Birth Hour keeps me plenty busy!) but the YL team that I had the opportunity to join (and that you can join too!) is so fun & full of knowledge that I couldn't resist joining them after watching so many friends move up through the ranks all while having a blast!
I've been actively using the oils in my daily life so much (especially during my pregnancy) that it only made sense to get on board and start sharing my experience. And to be totally frank, working solo on the podcast was getting a little isolating and I am loving having a group of friends both online and locally to share mutual goals with.
I'm a terrible salesperson and had no desire to become one but through our team's free mentorship program I learned that it's really all about sharing rather than selling. That I could do! I was using the essential oils and products so much throughout the day that I simply started sharing more of my day with friends in my daily life and on Instagram.
The other cool thing is that you don't have to pay anything up front or keep any stock of products, all you are doing is sharing your referral link and helping people get their starter kit so they can experience all of the most popular oils while also getting their own access to the wholesale prices of 24% off everything Young Living makes!
My first new members were my friends and family that would come over to my house and ask what that amazing smell was or where I got the awesome hand soap in the bathroom etc. Everything I had learned in the mentorship was pretty spot on—the people that love you and already trust your taste will be interested in the things your are using and loving! I was hooked! 
With a Young Living business you can:
Get your products paid for
Be your own boss and have more time with your family
Work alongside an amazing community of women leaders and entrepreneurs
Earn an income that is a direct result of your own efforts
Grow real wealth and residual income through the well established business model of network marketing (I know this is the part people struggle with and I did too but I haven't experienced anything sketchy or salesy since joining!)
Our team has all the resources and tools you need to start growing your very own Young Living Essential Oil business including graphics and photos free for you to use, pre-made oils classes for you to teach, ebooks, ongoing trainings and education, and best of all, a vast community of support and friendship. Honestly, my favorite part—it's truly so much fun to work alongside these women and celebrate each others successes no matter how big or small!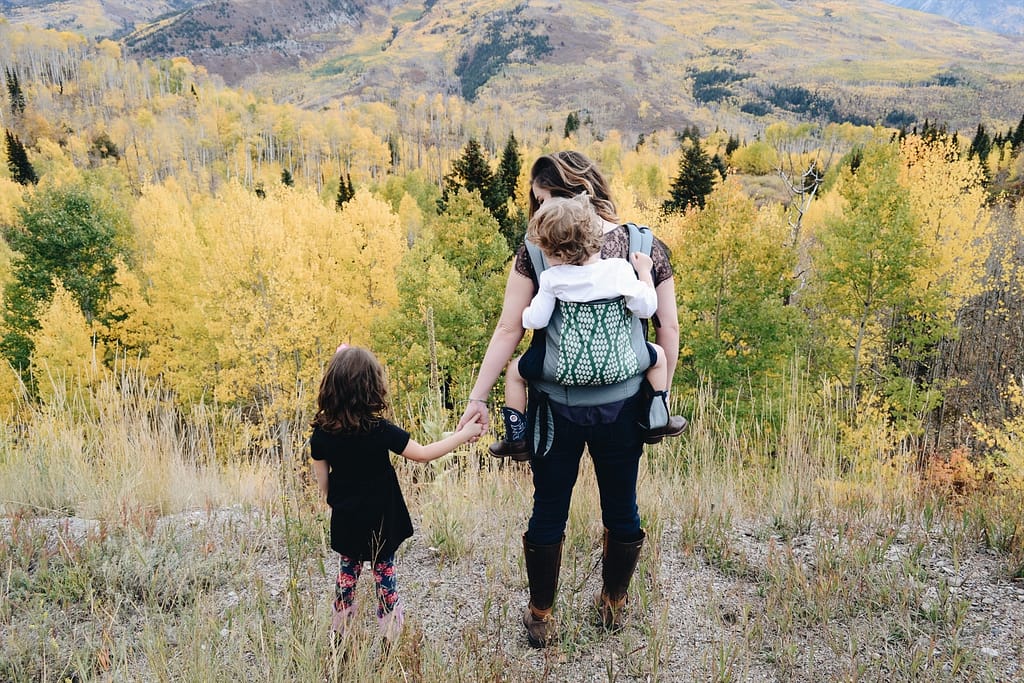 The Business Opportunity with Young Living
If you have you fallen in love with Essential Oils and now you want to share with others,  Young Living allows you to turn that passion into a real income! Our team's primary mission is to give you the tools and education you need to succeed.
We equip each of our new members with resources and tools including an online mentorship, and tons of guidance. The beauty of a Young Living business is that it's designed to foster a community of support. That means that when you decide to grow your business with Young Living and enroll as a brand partner, you get free and unlimited access to all of our team resources and community support groups and anyone that you enroll will get the same!
What makes Young Living different than other MLMs?
OK, yes I was turned off by the idea of joining a network marketing or multi level marketing business because of all of the horror stories I'd heard. At the same time, I had friends in my real life that were seeing huge successes with their Young Living Businesses! A couple of people on my upline showed me their actual paychecks so at least I knew the money was real right off the bat. Even though I trusted them, I wanted to make sure and do some research of my own.
So the big concern with MLMs is that they are a scam or a pyramid scheme, right? Since the only startup cost was to get my $165 starter kit, which I already had (and loved!), I wasn't too worried about being scammed. I already knew the products were high quality and worked for me and my family, so again I wasn't worried about scamming people with crappy products! 
In order to earn full commissions you do need to be on the Essential Rewards program spending but I was already doing that, because, again, I loved the products and loved all of the perks of this monthly autoship program (free stuff, points back, etc!). We were switching out conventional products for non-toxic, plant based products in our home and loving the changes we were seeing so this was also a no brainer for me. We started getting our cleaning products, supplements, shampoo, etc. all from Young Living. Plus, how many startup businesses can you think of that can get off the ground spending only around $50 to $100/month?!
Ok, so the pyramid scheme thing. All MLMs are designed in a way that when you look at your team it does resemble a pyramid and Young Living is no different. However, I don't view this as a scheme because our team is all working together to help one another succeed. One thing unique to Young Living is that they allow you to strategically place your members in different areas of your organization so your upline can actually help YOUR team grow by placing people that enroll with them into your team. So, when those above you are doing well, it actually helps your business and of course every person who joins your team also helps those above you.
We all grow together and supporting each other is definitely the vibe I saw immediately once I joined our private team groups on Facebook. It's actually pretty remarkable how supportive those groups are and how inspiring the members are. It's so rare to come across a big online community of women with ZERO cattiness or mommy wars behavior. Of course I can't speak for every Young Living team out there but the team I joined has become a group of lifelong friendships. 
So how much are people actually earning with a Young Living Business?
How much you earn in your Young Living business is entirely up to you. Some members are content to earn a few extra hundred dollars a month, while others are looking to earn six-figure incomes and beyond. Again, my favorite part is that when those above and below you succeed, you succeed too! It's definitely a team effort and you never feel like a salesperson out there alone.
Below you'll see the average monthly income earned by the nearly 1.75 million Young Living members worldwide. Last updated in 2018. Our team is all about helping you reach your goals, however big.
I'm currently a Gold leader with Young Living and I've been doing the business for 3 years.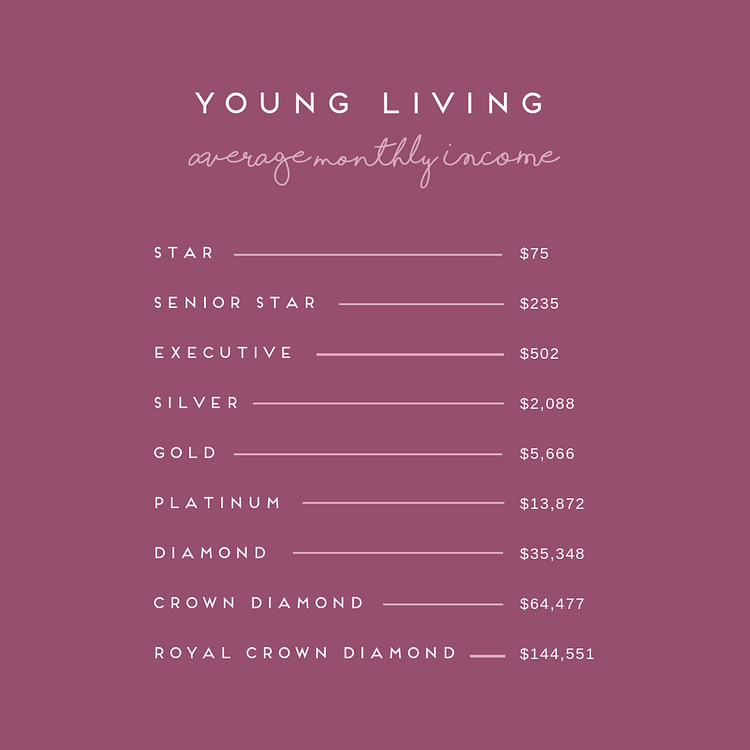 Young Living resources for new members
The following resources and tools are provided to all of our team members for FREE:
Online Mentorship
One-one-one coaching with your sponsor (me!)
Four different online community support groups just for business builders ranging from an intimate group of around 50 women to a thriving group of over 8,000 active members
Our team google drive with scripts, graphics, documents, ebooks and so much more
Ongoing business trainings through webinars, zooms, videos, community groups, and more
Today's top earners in Young Living started the exact same way that you will –– with a Premium Starter Kit. You will be able to connect with these women personally in our team groups! It really does matter who you sign up with and our team is the best!
Below you can see the upline you'd be joining if you sign up with me! My sponsor and enroller is Dani Hampton, a dear friend and business genius, and I am on her frontline building my business right along with her! So you'd have me as a mentor and all of these other women's experiences and success to guide you.
Why I love working with Young Living
1. No Uncomfortable Obligations
Again, unlike many other network marketing companies, Young Living provides a no-strings attached opportunity that is accessible to all! When you build a business with Young Living you are NEVER required to stock up on a certain amount of product, reach a quota, or move at a certain speed. You can do this business at your own pace, and on your terms.
You just start by grabbing  the Young Living Premium Starter Kit. It's the ONLY requirement to start earning a paycheck with Young Living. Yes, really!
2. The products are actually amazing
Like I mentioned already, I am definitely NOT a good salesperson but I am really good at recommending things I love! Whether it's the new chocolate covered almonds at Costco or the best splash pad in town, I'm always eager to share my faves and Young Living products have been no different. We use so many things from Young Living on a daily basis and having a YL business simply gives me an excuse to share all the ways we are using our essential oils like for sleep, emotions, skin, and immune support and our products—vitamins, shampoo, soap, cleaners, makeup, baby care and so much more!
3. Residual Income
Ok, this one isn't quite as self-explanatory as the others but once I grasped the concept, I understood what made the business opportunity with Young Living so unique. Basically, it means that once you build up a team of members, you will earn commissions off of their orders forever, AKA you'll be making money in your sleep. Since unlike many other MLMs (thinking of ones my mom's friends did like Tupperware or Pampered Chef), Young Living's products are consumable which means once people fall in love with them (and that's always my goal!), they will continue ordering things when they run out! Since they order through the YL site and use their own membership login, this requires zero effort on your part and you're making passive income! Here's a great video that explains YL's residual income a little better. 
4. Amazing perks and bonuses!
Aside from the referral bonus you get when you introduce new people to Young Living products and the forever commissions you earn on their order, the company also makes things really fun by constantly offering special promos and free perks. In less than a year of starting my Young Living business I had earned countless free essential oils, diffusers, and other swag as well as an all expenses paid trip to Young Living's lavender farm in Utah.
My friend Dani Hampton has earned all of those things plus a free Alaskan cruise and a trip to Hawaii! Each time you hit a new rank or participate in one of their other promos there are free trips and prizes you can earn. It's really fun, especially when you get to go on those trips with your friends doing the business with you!
5. Dreaming Big
It's so fun to think about where I'll be in five or ten years with this business. I'm growing my Young Living business at a steady but organic rate because I never want it to feel like a burden or be salesy to my friends. Even so, I can look at my stats and see where I'll be in a few years time and it blows my mind. The book The Four Year Career® for Women: Young Living Special Edition explains how this business grows exponentially with time and if you work hard at it for four years you will see your goals coming to fruition! 
Have questions?
Let's chat! Connect with Bryn by emailing brynessentials @ gmail.com! You can also follow me on Instagram @overlandhomestead
Young Living Business FAQs
How do you earn commission with Young Living?
Young Living sends you a $50 referral commission each time you enroll someone with a premium starter kit plus forever commissions (residual income) on all future orders and enrollments.
How do I get paid with Young Living?
When you join you can simply set up a direct deposit from your Young Living account and you'll get back around the 17th of every month. 
How much does it cost to join Young Living?
Simply purchase a premium starter kit. It comes with 12 of the most popular oils, a diffuser of your choice, and access to all of our team resources and exclusive online communities. It costs $165. 
I'm too busy, I want to make extra money but I'm already overwhelmed. How will I find time?
I hear you! For me by utilizing the resources our team offers (classes with pre-written scripts, graphics, images, groups) all for FREE, I had everything I needed so that you can simply duplicate what others have done before you. I probably spend about an hour per week on my Young Living business and I know many, many women who have grown to the highest ranks in the company by working in their fringe hours after their kids have gone to bed or first thing in the morning. 
Do I have to host in-home parties, blast friends on social media, create an LLC, or Facebook group?
Nope. It's as simple as sharing your referral link for products that you love. Just like you might send a link for your new favorite toothbrush or podcast you love! Your business will definitely grow faster the more ways you share about your oils but you want to be sure to do it in a way that feels genuine and comfortable to you and there's never any pressure from me or anyone else on our team to do any different. 
Do I have to carry inventory, take out a loan, or ship products to people?
Nope. Nope. Nope. Any one of those things would've been a total deal breaker for me. Young Living takes care of everything for you. All you need to do is help people get signed up via your referral link. Once members create their account, they order directly through YL and you make commissions. What other business can you think of that doesn't require any start up costs or inventory and offers a customized website all free of charge?!
Do Young Living essential oils really work?
Yes! But only if you use them! That's why we have so many resources available for our product users to learn how to use their oils. The thing that bums me out the most is when someone gets their starter kit and then it sits on the shelf. I'll be right there with you as you learn about using essential oils in your daily life. I've got tons of great diffuser blend recipes, cleaning DIYs, tricks for helping your kids sleep and manage their emotions… and lots more! More on the essential oils and how we use them here. 
I have never used essential oils before. Do I need to know everything about them before doing the business?
First, I'm so excited for you to learn how to incorporate oils into your life! Once you get your starter kit, I'm so confident that these oils will change your life. I know that sounds dramatic but I really believe it! Second, no you don't need to be an expert. Think about it…most people who join you will be brand new to oils as well and you can learn and discover new ways to use them together. Our team resources will educate you and anyone who signs up with you. You can plug all of your members into our exclusive resources/groups so that we can teach them together. It takes the pressure off and we all get to learn together!