To listen to this episode, and more than 300 other birth stories in The Birth Hour archives, join our listener supporter group here!
Adoption through Foster Care
Kavisa and Sky talked about adoption even before they married. They set goals for building a blended family. Five years into their marriage, the timing and details aligned, and they became licensed for foster care and adoption. When Kavisa, who is normally an overthinker who spends days researching all the angles before making decisions, first saw a photo of their daughters she immediately knew. They met their two daughters for the first time in August 2015, officially adopting them in April 2016.
Five Day Wait After Water Breaking, Posterior Baby and Fetal Vacuum
Exactly 1 year and two days after Kavisa and Sky legally adopted their two daughters from foster care, their son was born. He took his sweet time arriving sunny side up with a head tilt (occiput posterior and asynclitic). He refused to follow any of Kavisa's plans for birth. Kavisa planned for a water birth without any medical inventions or drugs. Her son decided that even though his comfortable womb home of amniotic fluid started leaking on Tuesday, he would stay inside an extra 5 days… and only after 3 days of labor. Inadequate dilation, fetal station/presentation, kidney function failure, and chorioamnionitis meant Kavisa and her son ended up needing medications, an epidural, and a fetal vacuum. However, after all the drama her son immediately latched seconds after birth. Their family 5 is a "real family" and full of love.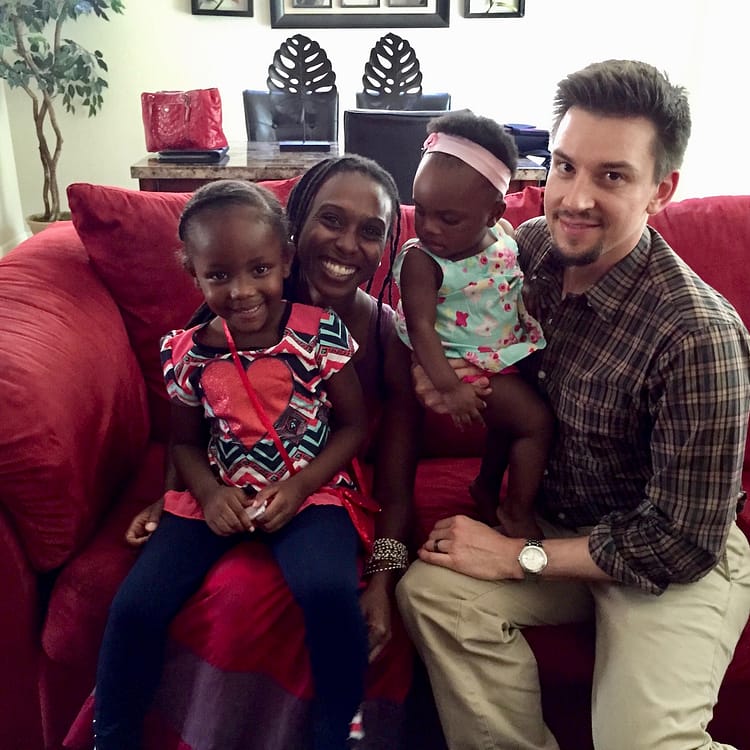 Kavisa Wood Bio
Kavisa and her husband Schuyler live in California with their two daughters Taloni (6) and Sharaelyn (3.5) and their son Uhuru (9 months). They intentionally grew their family through a combination of foster care adoption and biological children. Kavisa is a yoga teacher and CEO of her household. She is fueled by Baha'i prayers, running, yoga and coffee.
Resources
Jelly Bean Study for Glucose Test
Instagram accounts: @knittogetherbyadoption, @our_foster_parent_life, @fostermoms, @empoweredbirthproject, @4thtribodies and @taprootdoula
Podcasts:
Foster Parenting Podcast
The Birth Hour