In 2016 Jane and Dylan felt like it was the right time to start a family. They begin trying to get pregnant in January and in July of that year, Jane decided it would be smart to get her thyroid looked at. She was told to lose weight, see a sleep specialist and start meeting with a dietitian. Instead, she found a new doctor who immediately jumped into helping her get her hormones balanced.
Over the next 18 months they went through all the different fertility tests and everything came back unexplained. At the 2 year mark of TTC they felt like the next option was to pursue adoption through a small, local agency. Six months later they welcomed their daughter into the world and their home. Jane and Dylan were at the birth and stayed at the hospital with their daughter until she was discharged a couple days later.
Fast forward a few months and they began the discussion again of biological children. After a year of acupuncture, surgery to rule out endometriosis, and a lot of prayer, they decided to give IUI a chance. Miraculously Jane got pregnant on the first round, with twins! At 8.5 weeks they lost Baby B, but we're so thankful to have a healthy Baby A still growing. After a weird and somewhat tumultuous pregnancy, Jane gave birth to Gus at 41 weeks and 4 days in the comfort of their home.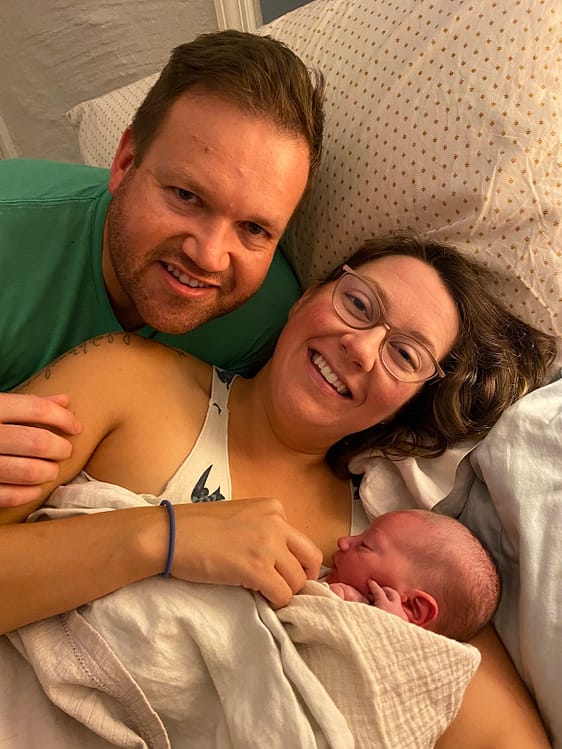 Jane Tucker Bio
Jane and her husband, Dylan live in Kansas City, Kansas. They have been married since March of 2014 and welcomed their first child into their family through adoption in 2018, and just had their second baby in September 2020. Lucia is almost 2.5 and Gus is 8 weeks old. Dylan works as the business director at A Chick-Fil-A and Jane is a full time SAHM. Connect with Jane on Facebook.
Motif Medical
This episode was sponsored by Motif Medical. Motif designs insurance-eligible products for busy moms. With a focus on innovation and empowerment, Motif's line of breast pumps and maternity compression garments are sophisticated, yet discreet, and made to support mothers as they navigate new motherhood. Discover why moms are reporting more milk in less time with the Luna breast pump, and see how you can get it covered through insurance at motifmedical.com/birthhour.