This guest post was written by Sasha Ruscheinski to share about her and her husband's experience with miscarriage. The rainbow dad tee can be found here. 
When my son, Lincoln, was 15 months old, my husband and I decided to try for our second child. We had no idea the journey we were about to go on. Within eight months, we had lost three pregnancies. The first was a missed miscarriage at 10 weeks, the second was an ectopic at 6 weeks and the third was another missed miscarriage at 6 weeks. It was excruciating and has forever changed me. I had been very lucky in my life and had never really experienced a loss. I am married to the only person I have ever dated, so I had never even experienced a lost love before. There were many nights where I would lay in bed and just sob. It felt as though my heart was going to burst through my chest. Losing those babies really took a toll on me. Being able to talk freely about my feelings really helped during the grieving process. I had friends texting me daily to see how I was doing, I was sent flowers on the due dates of the babies we lost and was given a beautiful necklace by my closest friends. Even hugs from friends and family always lasted a little longer. The support I received was amazing and really helped me get through it. When a woman miscarries the support is usually given to her, but what about dad?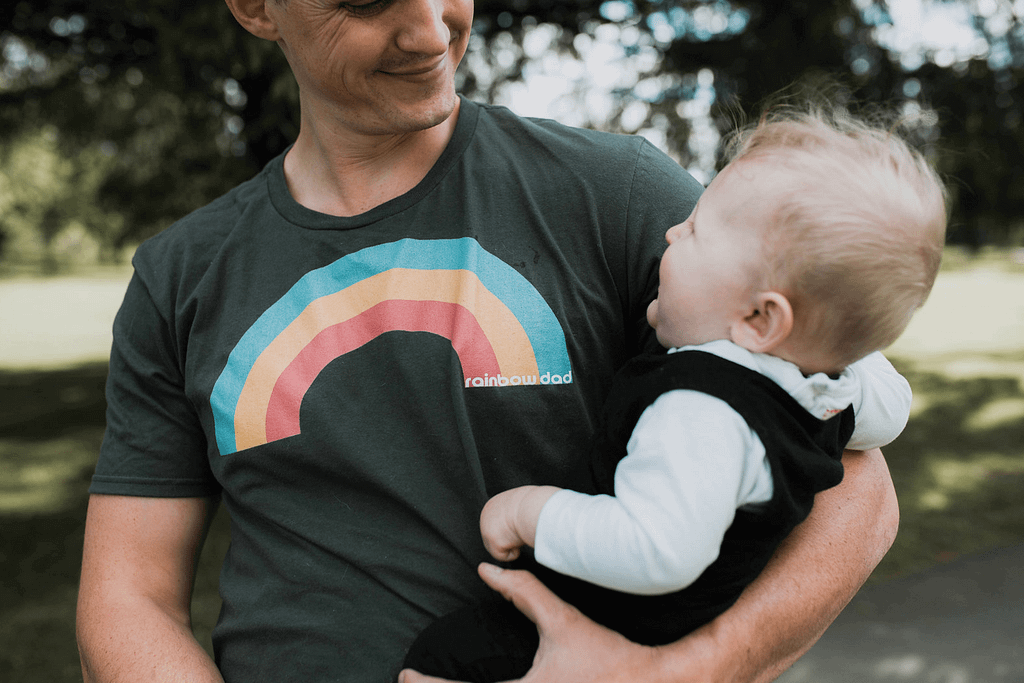 I know the saying goes "when a woman becomes pregnant she becomes a mother, when man holds his child he becomes a father". Yeah, that may be the case for some, but I know that the instant we got a positive pregnancy test my husband started dreaming about our child. He started to envision our life with this new family member. I know that our losses crushed him. He never saw them coming. With the first baby we lost, I had had a feeling that something wasn't right, but my husband always kept telling me that everything would be okay. It was at our first ultrasound, on his birthday, that we found out the baby hadn't made it past seven weeks. I will never forget that look on my husband's face when the tech told us. It was pure anguish, yet the first thing he did was grab me. Men carry such a heavy burden when you miscarry. They are grieving the loss of their child, but they also have a partner that needs major support.
Recognizing Rainbow Dads
Our rainbow baby, Britton, was born on November 16th, 2016. It was one of the best days of my life. Since his birth, I have been drawn to all things rainbow and when I saw the Rainbow Dad shirts from Bryn, I knew I needed to get one for my husband for Father's Day. When I first picked up the shirt, I looked at the beautiful rainbow and the words "rainbow dad" and I had this wave of emotion just hit me so hard. Even as I write this, my heart is tightening and I can feel tears coming. I had always just seen myself as a rainbow mom and Britton as my rainbow baby. I can honestly say that during our (I initially wrote "my") miscarriages, I didn't really give much support to my husband. Our losses completely consumed me, so I never stopped to think that maybe they consumed him as well. I think it is very easy to forget about dad; I know I did.
This rainbow dad shirt made me stop and think. It made me ask my husband about what it was like for him when we lost our babies… a question I had never asked him before. My husband would be the first one to say that his main concern was me; he wanted to make sure that I was okay. He let me cry when I needed to, let me be angry when I needed to be and just sat there in silence with me when I needed it. I wish that I had been able to do that for him, since I know he suffered in silence. I wish I had sat down with him and let him fall apart the way he let me. I wish he was given the same amount of support that I was given. I know he is at a new place in his grieving process, but I know he needed me back then.
People come to me a lot for my advice when they are going through a miscarriage. My advice is always directed at the woman and making sure to give her support. Moving forward, I am going to make sure to remind them to not forget about the dad the way that I did. Dads need to be given the chance to fall apart as well and have someone there to comfort them. So often men want to be the fixers. They want to be the strong man and support their wife. I asked my husband what he would say to another man who lost a baby and his words were simple: it is okay for you to
grieve, too.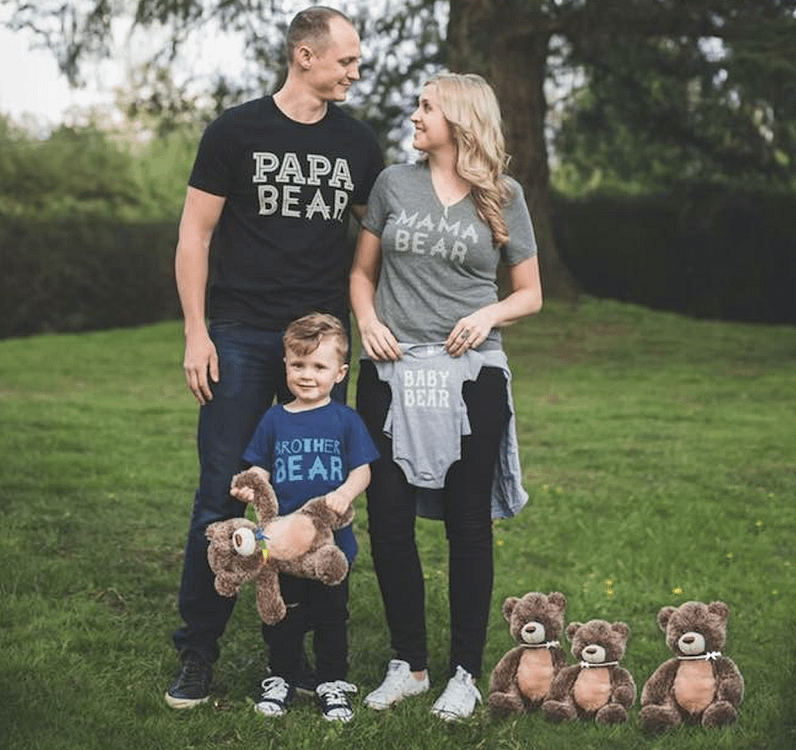 The Birth Hour also makes Rainbow Kid and Rainbow Mom shirts if you want to match as a family!