Hillary got pregnant quickly after waiting two years to conceive to get her autoimmune disorder under control and develop a plan for managing the disorder while pregnant. At her 20 week anatomy scan, she learned her baby had a single umbilical cord artery.
With the pandemic underway in her second trimester, she learned at her 34 week check up that her baby girl was breech. After attempting Spinning Babies and chiropractic care to help the baby flip, she did an ECV at 37 weeks that was unsuccessful. She began planning for a surgical birth to be scheduled at 39 weeks, but her water broke a few days after the EVC.
With her doula on the phone as she and her husband Mike drove to the hospital, Hillary looked forward to the most positive birth she could. She and her husband played music, a nurse took photos, and she had a clear drape to allow her to see the baby coming out, and be placed on her chest. The baby needed phototherapy for jaundice the next day, but other than that, was totally healthy.
The biggest challenge back at home (besides sleeping!) was nursing; after 2.5 weeks and a consult with an amazing IBCLC lactation consultant, she weaned. At about 8 weeks postpartum, Hillary got very sick and went to the ER; she was admitted for several days because of gallstones and pancreatitis, and had surgery to remove her gallbladder. Then, about 6 weeks later, she was back in the ER: she had retained stones following gallbladder removal, a rare complication. After another multi-day hospitalization, she made it back home and has been snuggling her baby and her husband ever since.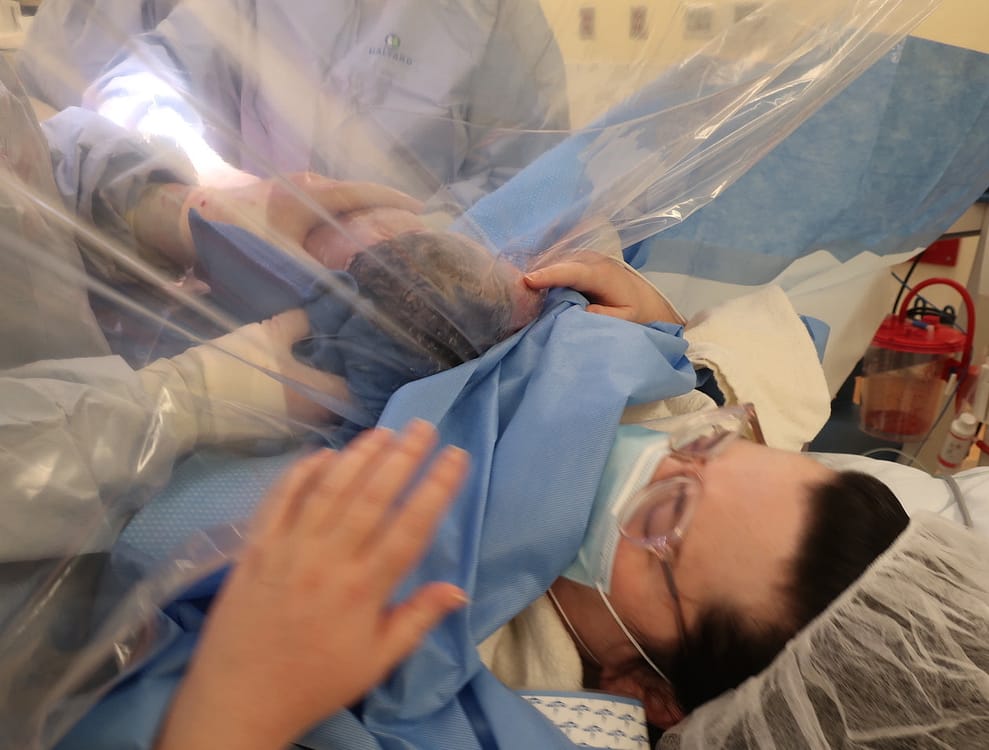 Hillary Dixler Canavan Bio
Hillary Dixler Canavan lives in Los Angeles with her husband Mike and baby Claire. She works in food media, and you can find her on Instagram, @hillarydixlercanavan — she shares photos of food and her baby, and her DM's are open.
Resources
Kindred Bravely
Today's episode is brought to you by Kindred Bravely. From adorable maternity wear to comfortable nursing bras, this mom-owned company has you covered. See all of their comfy clothing at kindredbravely.com! I especially love their Simply Sublime nursing tank, their high waisted leggings (for pregnancy AND postpartum). Listen to this episode for a special coupon code and to hear about my new favorites in their loungewear including the Clea Bamboo Pajamas, Betsy Ribbed Bamboo Nursing & Maternity Nightgown, and Bamboo Maternity & Postpartum Lounge Pants.