To listen to this episode, and more than 300 other birth stories in The Birth Hour archives, join our listener supporter group here!
After a healthy pregnancy with twins, Amy and her husband were planning another home birth. Their first two children were born at home. Amy and her midwives were hoping to make it to 37 weeks. When labor began at 36 weeks, they all decided that giving birth in the hospital would be the smartest and safest choice. The midwives wanted to be confident that the babies were fully developed and 37 weeks was the goal.
Amy, her husband and two midwives (who came to the hospital to offer labor support) were met with resistance since Baby B was breech. The doctor wanted to take Amy immediately to the OR for a C-section. Baby A was head down, both babies heart rates were strong and there were no signs of distress, so Amy refused the cesarean. She said "I trust in my body, and I trust in my babies. We deserve a chance to labor."
This statement would be one that she repeated each time a fear tactic was thrown at her. She was bullied by the doctors and administrative staff but never gave up hope on her body or her babies. She simply wanted the opportunity to labor and birth Baby A vaginally. After that, she was hopeful Baby B would find the position he needed.
Even in the face of fear, doubt and control from the doctors, Amy remained confident in her voice. She filled her birth story with trust and surrender.
The twins had their own unique journeys into the world. While it wasn't the homebirth Amy had planned on, she has found acceptance for the story they wrote together. From their pregnancy, to birth, to mothering twins, the boys have taught her the power of patience, surrender and trust.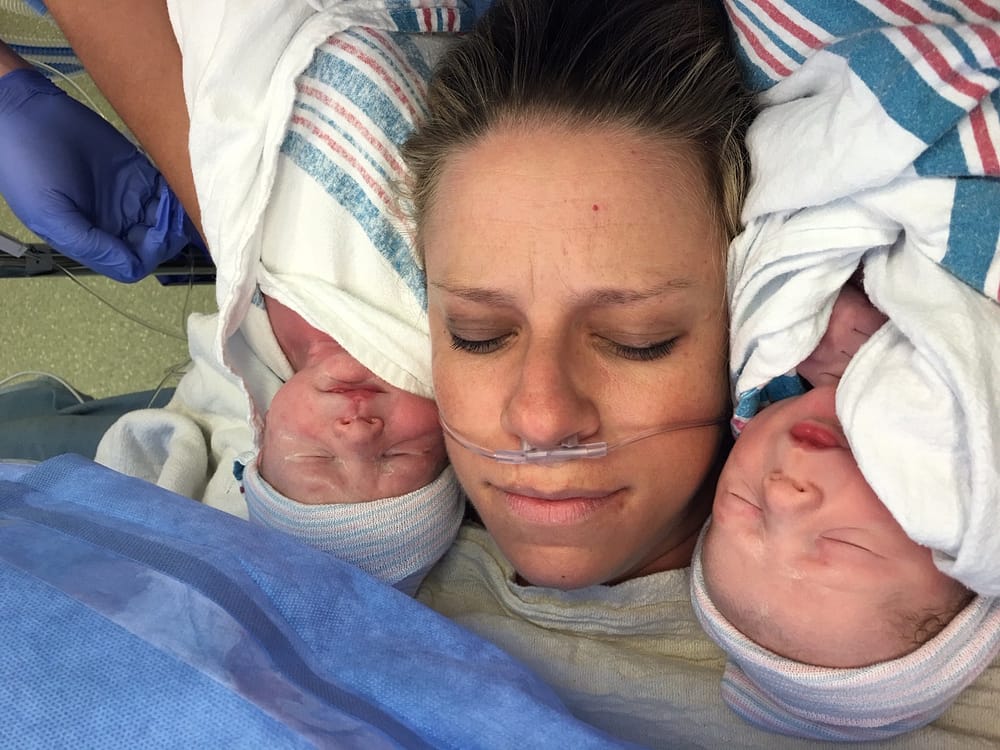 Amy Griffith Bio
Amy Griffith is a mom of 4, including twins. She transitioned from a career as a Broadway dancer and Radio City Rockette, to the world of yoga as an instructor specializing in prenatal and postnatal yoga. Amy's pregnancy and birth with her son inspired her to film her own prenatal yoga dvd's with her daughter, her second child. Her pregnancy and birth with the twins reinforced the importance of slowing down, trusting her body and surrendering to their path. Amy says she is mindfully-stumbling through motherhood as she juggles the demands of 4 children. A focus on the good in the present moment is how she handles the challenges that arise in motherhood. More information on Amy, her pre/postnatal dvd's and social media links can be found at ExercisingBalance.com.
Resources
When you're expecting twins, triplets or quads By Dr. Barbara Luke
Expectful
Earth Mama Organics
Expectful
This episode was sponsored by Expectful which is a digital platform that makes meditation easy for expectant and new moms. Each one of their guided meditations has been created to support you throughout your pregnancy and motherhood journey.
Their mission is to give babies the best start in life, and that begins with you. If you're pregnant or a new mom, go to expectful.com and sign up for their 30 day free meditation trial. It may just change your life.