Episode 742
Julie had an uncomplicated pregnancy under the care of midwives, made both harder and easier by COVID restrictions (she didn't get to see family and friends but she did get to rest as much as she wanted and never dealt with unsolicited comments from strangers). After hiring a doula and talking in detail about birth options, she made the choice to switch to a birth center. Julie prepared for birth using hypnobirthing, and was surprised to find that she enjoyed doing meditations before bed with her husband, Matt. She went into labor at 40+5 following a membrane sweep, and went to the birth center after a fast and intense early labor. Julie used all the tools available to her at the birth center, including the tub, and eventually gave birth in the water after about 8 hours of active labor. Her daughter, Lily, was born on Julie and Matt's 5th wedding anniversary, and the new parents shared some champagne to celebrate both occasions while resting together.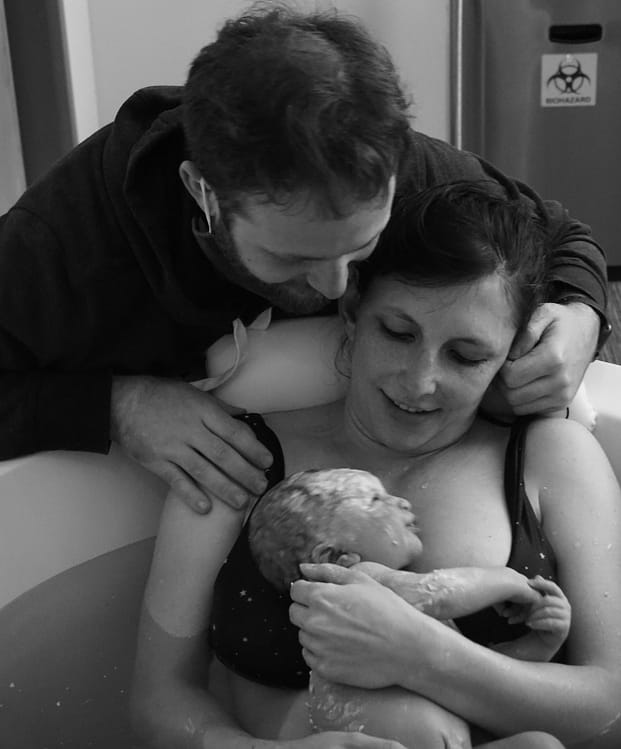 After this smooth welcome to the world, breastfeeding difficulties quickly developed. Lily had a lip and tongue tie which caused weight gain issues and unbearable pain while nursing. She had a release at 5 days old, which led to improvements, but Julie struggled with anxiety and stress associated with these early issues, as well as persistent pain and discomfort while nursing. She was eventually able to establish a feeding routine that worked, but she was never able to enjoy the breastfeeding process and dealt with recurring clogs. Julie also struggled to decide whether or not to return to work, and after choosing to stay home with Lily to pursue new career opportunities, she was surprised and encouraged by how many women reached out to tell her they had also left the workforce when their children were small and never regretted it for a minute. Julie was happy to find a job that better fit her lifestyle when Lily was 8 months old, and despite challenging newborn days, she has enjoyed every stage more than the last, especially after successfully weaning when Lily turned one.
Julie Rosenberg Bio  
Julie lives in New Jersey with her husband, Matt, and one-year-old daughter, Lily. She was a book editor in New York City for over a decade and now works remotely as an editor at a software company. Send Julie a message to connect on Instagram @juliearosenberg.
Resources 
Ergobaby
This episode is sponsored by Ergobaby. Founded in 2003, Ergobaby has pioneered the gold standard for comfortable, ergonomic soft structured carriers. Their commitment to providing parents with the foundation to thrive has launched the company into creating a broad range of award-winning products that fit into families' daily lives seamlessly, comfortably, and safely – where function and quality are not compromised. In 2020, they launched Everlove by Ergobaby, a first of its kind baby carrier buy back and resale program, a sustainability effort to support families and the planet. Check out Ergobaby's Embrace in Soft Air Mesh and new Evolve 3-in-1 Bouncer that we discussed on the podcast!