Lizzie gave birth to her first child in January 2022, after a rough pregnancy with lots of sickness. She gave birth in a hospital during the omicron wave of COVID-19, and both her and her husband tested positive the week before the birth. Lizzie's labour was faster than expected, and Brody was born after less than 4 hours of active labor and only 15 minutes of pushing. She did not have that 'love at first sight' moment, and her bond with Brody was a slower build and included overcoming some gender disappointment. Lizzie also had some bumps in the road introducing Brody to her dog. She now has a great connection with Brody and is grateful to have been able to spend extended time with him over a 12-month maternity leave.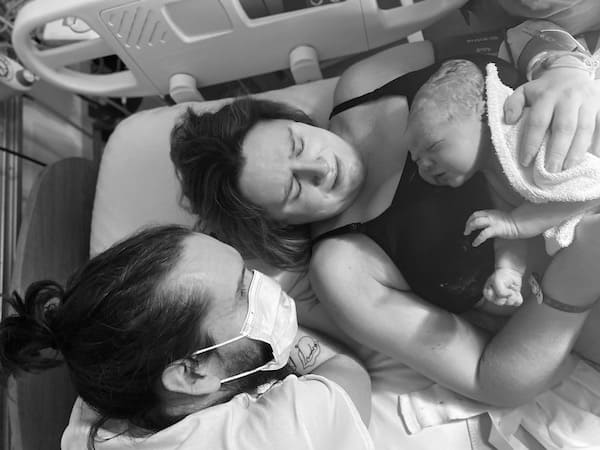 Lizzie Howells Bio
Lizzie and her husband James are parents to Boston terrier Dave and son Brody, who was born in January 2022. They are both from the UK and have lived in Vancouver, Canada, since 2011. Lizzie works in an operations role for a national environmental and social Justice charity. She is on instagram at @lizziejg.
Resources
Peanut App
Dog Meets baby on IG
Hey Sleepy Baby on IG
Ergobaby
This episode is sponsored by Ergobaby. Founded in 2003, Ergobaby has pioneered the gold standard for comfortable, ergonomic soft structured carriers. Their commitment to providing parents with the foundation to thrive has launched the company into creating a broad range of award-winning products that fit into families' daily lives seamlessly, comfortably, and safely – where function and quality are not compromised. In 2020, they launched Everlove by Ergobaby, a first of its kind baby carrier buy back and resale program, a sustainability effort to support families and the planet. Check out Ergobaby's Embrace in Soft Air Mesh and new Evolve 3-in-1 Bouncer that we discussed on the podcast!