To listen to this episode, and hundreds more birth stories in The Birth Hour archives, join our listener supporter Patreon here!
Prior to this pregnancy, Teisia had two chemical pregnancies back-to-back. She had never heard about chemical pregnancies before trying to conceive, so they were devastating. She thought something was wrong with her and that she might never have a successful pregnancy. She wants all women who have experienced any kind of loss to know that there is nothing wrong with them, they are not alone and there is hope. She hopes to see more light shed on how common this is so that women can feel less alone and more supported.

Teisia had planned an unmedicated water birth at a hospital attached Midwifery Center. She prepared with hypnobirthing methods in anticipation. She went into labor at 39 weeks and left for the hospital soon after her water broke at home. While the midwife staff were blowing up the birthing pool, she was able to labor peacefully in the bathtub. It was the serene, beautiful experience she had imagined. Later on, the baby's heart rate got too high and she was asked to get out of the tub. Once she was out of the water, the labor became much more difficult.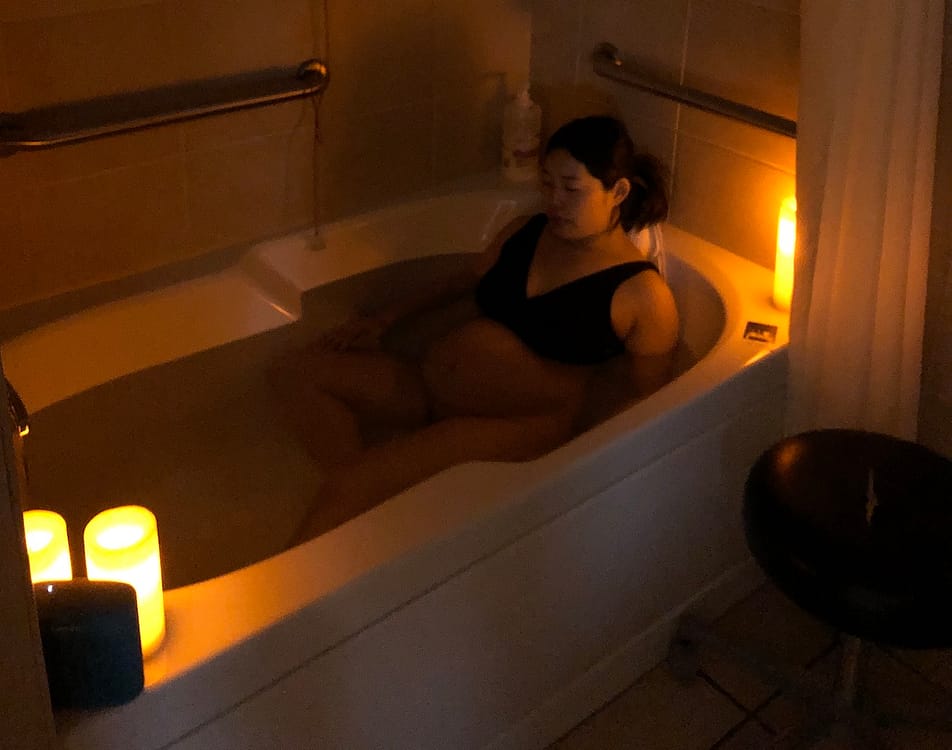 She was told at 37 weeks that the baby was posterior but tried a lot of different things to get the baby to turn at home – so she thought that the baby had turned by the time labor started. No one told her that the baby was still posterior and therefore pushing was very hard. After an extremely challenging 3 hours, her baby girl was born. Her husband, Brian was there every step of the way and was the most supportive and amazing birth partner she could've asked for. Everyone was joking about how he was a "dude-la". Although she didn't get to have the calm water birth that she wanted, with the help of hypnobirthing and the support of her doula and husband, Teisia was able to go through with the unmedicated birth she had planned. It was the most magical and empowering moment of her life.
Teisia Wantuch Bio
Teisia is a working mom (software engineer) and lives in Denver, Colorado with her husband Brian, daughter Eleanor and two cats (Mozart and Dwight). She loves the outdoors and seeing live music. After becoming pregnant with her first, she has become very passionate about pregnancy, birth and motherhood – and loves to talk about it and follow companies that are empowering women and mothers. You can connect with her on Instagram @_teisia.
Resources
Crane
This episode is sponsored by Crane Humidifiers. Crane's colorful humidifiers are a nursery necessity to help relieve your baby's tiny congested nose, which can make feeding and sleeping a struggle for both baby and mom. A happy baby is a healthy baby. Crane is generously offering $10 OFF and free shipping on all of their full-priced, 1 gallon, adorable animal shaped humidifiers and drop humidifiers with the code BIRTH20 at www.crane-usa.com.
Become a Listener Supporter via Patreon and get access to bonus content, archived episodes, and an exclusive Facebook group!