First Birth: Oshiolema Atogwe in 2015. Age 24.
We used the Bradley method and really wanted a water birth but knew our birth center would only allow laboring in the water but not delivering in the water since it was attached to the hospital. Incredibly easy pregnancy. Water broke at 38 weeks to the day after a cervical check that morning and my body simply wasn't ready. I was told at the 22 hour mark that if some progress wasn't made soon, I'd have to start considering other options. I was devastated when the team switched over to the midwife I was least fond of since it had been 12 hours but that midwife added essential oils to my belly that finally started progression. After 24 hours of labor with a plateau (natural alignment plateau) after the water, a cervical lip and two hours of pushing, I gave birth on a birthing stool and delivered him myself. My placenta fell right onto the floor, he punched his way out and I had absolutely horrible tearing. Postpartum healing and breastfeeding were incredibly challenging and it was a traumatic experience.
Second Birth: Keogena Atogwe in 2016. Age 26.
I dedicated so much time and effort to making sure I learned how to push and to better prepare my body for labor through spinning babies, six dates a day, borage oil, red raspberry leaf tea and so on. I got really painful varicose veins and had placenta previa so the pregnancy was a bit more challenging, especially since my son was 11 months old when I found out I was pregnant. We moved late in my third trimester and I quickly found a midwife team and doula. I had false labor a few times and started to get so discouraged but at 39 weeks, went into labor and it was six hours start to finish. Relaxing worship music and focus were so helpful. She was born in the water and it was the most healing birth-exactly what I had prayed for. I had the teeniest tiniest tear and recovery was so much more smooth.
Miscarriage in 2018
Third birth: Zeameh Atogwe in 2020. Age 30.
I found out I was pregnant less than a month after my sister's full term stillbirth. This pregnancy was filled with physical and emotional difficulty. Pregnancy after loss (my miscarriage and my sister's stillbirth) and my first pregnancy with autoimmune disease made me really have to battle for hope and confidence. I was diagnosed with "irritable uterus" at 9 weeks which I thought was a joke, but it set the tone for the pregnancy. I had Braxton Hicks very early and contractions that would follow a pattern from 22 weeks. I kept hearing about precipitous birth at every turn and began to think it might happen for me. The pandemic hit right as I entered my third trimester and changed everything. Added so much anxiety and sleep became almost impossible. For the final couple months, I was waking up and staying up every night with Braxton Hicks and for the final three weeks, I had prodromal labor every single night. Sometimes my contractions lasted 5 minutes which I learned was my body trying to get the baby in position— the pandemic meant no chiropractor or prenatal massage which I had previously relied on. I tore my abdomen, my varicose veins were off the charts and I was just so deeply uncomfortable that I started to feel depressed and scared I wouldn't even be excited to have the baby. The very day I expressed that thought, my water broke at 11pm. My parents came, I labored until morning and I thought I was going to give birth in the car. I went from a 4 to a 10 in about a 15 minute period. Labor from the first hard contraction to holding her in my arms was two hours. Recovery was a dream, she was a dream and I was back home three hours later.
Postpartum: pandemic postpartum was difficult and lonely. I felt so sorry my husband was taking care of everything and everyone. We also ended up getting COVID-19 when she was 4 weeks old and that meant we needed to be even more isolated which was devastating but I'm thankful to have walked through it.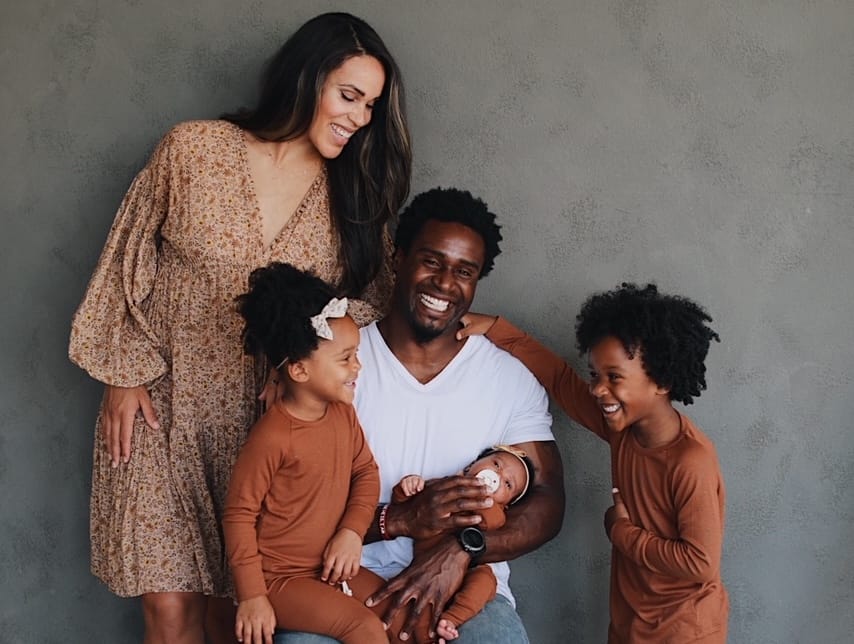 Jill Atogwe is a wife to Oshiomogho and mother to Oshiolema, Keogena and Zeameh living in Dallas, Texas. She is an artist and lifestyle blogger behind Gold & Graphite and is always searching for the beauty in every day life. 
Connect with her via her website: goldandgraphite.com, instagram.com/jillatogwe or Email: jkatogwe@gmail.com. 
Resources
Expectful
This episode is sponsored by Expectful – the #1 guided meditation & sleep app for your fertility, pregnancy, and motherhood journey. Just like you probably take a prenatal vitamin for your body, Expectful's meditations are like a prenatal vitamin for your mind and can help you have a happier, healthier journey to parenthood. Whether you are TTC, pregnant, or postpartum, everything in the Expectful app was made just for this special moment in your life and created based on interviews with hopeful, expecting, and new parents just like you. Ready to reduce stress, improve sleep, and connect with your little one? Go to expectful.com/birthhour or download Expectful in the App Store to get started with a free trial today.