In the fall of 2019 after a crazy year of changing jobs, moving states, buying a house, and adopting a puppy, Sarah and her husband, Joe decided to start trying for a baby.  They were fortunate enough to conceive after the first month of trying. Once COVID- 19 hit in March of 2020 both Sarah and her husband moved out of their respective offices and into the home office, where they've been ever since.  
Sarah loved being pregnant and was able to remain active throughout her pregnancy. Despite loving her pregnancy, Sarah started experiencing severe anxiety surrounding the birth at the beginning of her third trimester. Sarah was sexually assaulted in her first year of graduate school and although she had done extensive therapy to heal, underlying issues surrounding bodily autonomy and consent threatened her positive birth experience. Through working together with a birth coach and her husband Sarah was able to overcome her anxiety and develop a plan to cope with any situation that would present itself during labor and delivery.
Labor and delivery were demanding and despite her best efforts to naturally induce labor Sarah had to be medically induced at 41 weeks. While joyful, her postpartum period was physically difficult, and she and baby Grace had a challenging time establishing breastfeeding.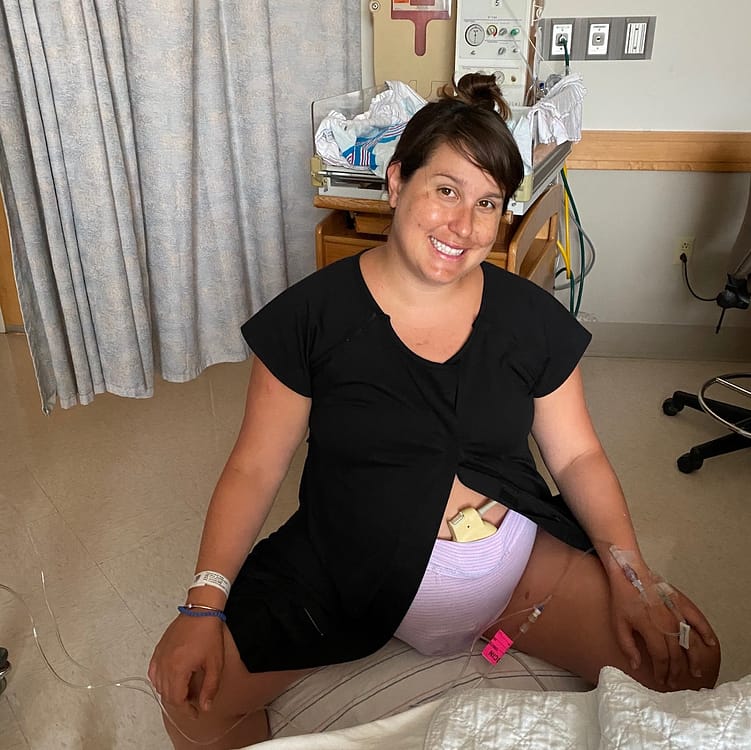 Sarah Sushchyk Bio
Sarah lives in central Massachusetts and works in regulatory affairs at a large pharmaceutical company in the area. She and her husband, Joe, met in Baltimore in 2012 where they were both pursuing their PhDs in Pharmaceutical Science.  They were married in 2017 and moved to Massachusetts shortly after. They welcomed their first child, Grace, on July 25th, 2020. The family enjoys taking long hikes with Cooper, their 85-pound fur baby. You can connect with Sarah on Instagram @ssushhythoms
Resources
Be My Breast Friend – Instagram Account @bemybreastfriend
Aeroflow Breastpumps
Aeroflow Breastpumps has helped thousands of new and expecting moms find the perfect pump for her lifestyle. They offer all major pump brands including Medela, Spectra, Motif, Lansinoh, Ameda and more. And the best part, they take care of everything – including getting all required paperwork, dealing with your insurance company, and explaining your options in order to get your free pump shipped straight to your door.
Bonus — you may also qualify for free maternity compression garments like compression socks, maternity support band, and a postpartum recovery garment PLUS breast pump resupply products ranging from new bottles, tubing, and flanges to duck valves and pump membranes.
All you have to do is go to the Aeroflow Breastpumps website and fill out their free and easy Qualify Through Insurance form. Be sure to go to aeroflowbreastpumps.com/birthhour so they will know I sent you!