In spite of being a Large Animal Veterinarian (Board Certified in Animal ObGyn) and a Reproductive Physiologist studying human fertility, Dr. Joanna Ellington was surprised when the flu threw off her ovulation cycle and an unplanned pregnancy occurred. Using excellent classic references like Active Birth and Spiritual Midwifery, Joanna used perineal massage to prepare for childbirth, and was maybe a little too active with a 2 mile hike that turned into 5 miles the day before her membranes began leaking. An induction resulted in a normal birth where Joanna used her knowledge of birth and lactation in animals to enjoy the process as much as possible, even telling her midwife "That was kind of fun!"
Joanna's second son was born within 10 minutes after she arrived at the hospital. In the chaos and discomfort of having two male doctors she had never met working on her son and her private parts, Joanna coped by switching into "medical professional mode" and talking to them about her research. But, she lost her focus on her baby and the moment. Sadly, she forgot to invite her waiting son and mother in to see the birth, as she had planned. This was a valuable lesson of not "taking care of others" or outwardly focusing during birth, but staying centered and baby focused.
Between her two births, Joanna used her knowledge of the safety of isotonic (balanced salt) environments and her discovery of a plant sugar that protected sperm, to create the first FDA approved Fertility Lubricant safe to use while trying to conceive (Pre-Seed). Along with her Doctorate-of-Pharmacy husband, Joanna has gone on to create a new platform of isotonic women's healthcare products in partnership with Fairhaven Health. These include: BabyIt Perineal Massage and Postpartum Comfort Gel. Best practice medical-evidence now supports perineal massage to increase a woman's chance of intact perineum (not tearing or having an episiotomy), decrease the risk of chronic postpartum pain and increase a woman's sense of control and positive feeling about labor and delivery.
BabyIt from Fairhaven Health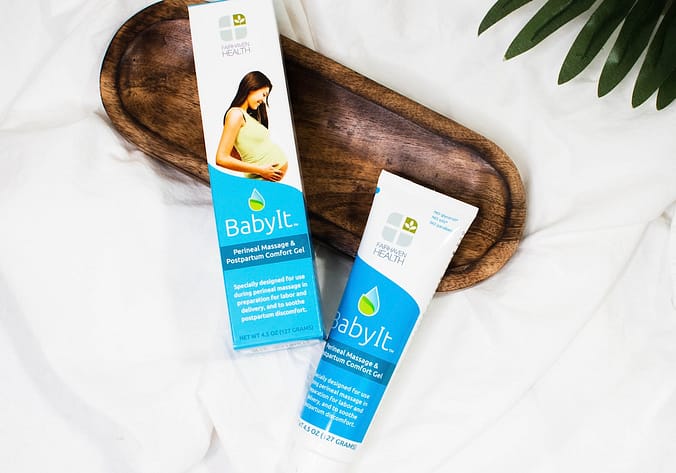 This episode is sponsored by Fairhaven Health. Fairhaven Health offers a wide range of products for fertility, pregnancy, breastfeeding and women's health. Today, we're highlighting a product from their vaginal care line – BabyIt Perineal Massage and Postpartum Gel. BabyIt is a water-based, isotonic and paraben-free gel designed specifically for perineal massage during pregnancy, and to soothe sore tissues postpartum. Fairhaven Health is generously offering 15% off of all products with the code BirthHour15 at www.fairhavenhealth.com