To listen to this episode, and more than 300 other birth stories in The Birth Hour archives, join our listener supporter group here!
In honor of Pregnancy and Infant Loss Awareness Month we are sharing this beautiful story again.
Same-sex couple Mariel and Viviana knew they always wanted a baby; so, a year into their marriage they began trying to conceive by the traditional route of IUI's with frozen sperm via a sperm bank. After nearly a dozen failed tries, they switched gears to a known-donor and were quickly pregnant. Early on in Viviana's pregnancy she began having complications, and on the same day of her anatomy scan at 20 weeks and 6 days, Viviana's water bag prolapsed and broke. Tune in to hear the details of their devastating infant loss due to incompetent cervix and the redemption story of their boy/girl rainbow babies conceived within 7 days of each other and born only three days apart. Follow their journey on Instagram at @moderndaytwins.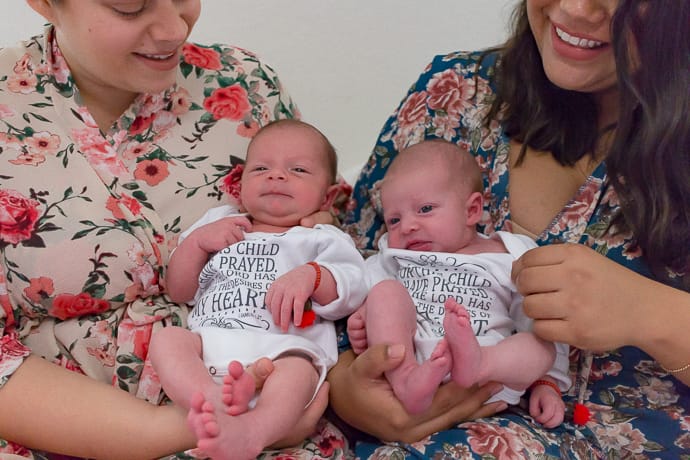 Viviana Bio
I don't have a hometown, but if I had to claim one, it would be Dallas, TX. I met Mariel in college at UNT and quickly fell in love. A few years into our dating, and after moving to Austin, she asked me to marry her; so, we had a ceremony in TX and made it legal in NYC when I was 29 and she was 22. I've always wanted to be a mother and never could have guessed the road to realizing it would be so hard. Now the Mama to my "modern day twins" and my little angel baby in heaven, I'm at peace. My loss and the birth world has been truly inspirational to me so I share as much as I can on social media and hope to give back somehow. Connect with me on Instagram at @vivianarchy.
Mariel Bio
I grew up in Brownsville, TX, which is on the Texas/Mexico border and never lived anywhere else until I left for college where I met Viviana and instantly fell in love. Up until meeting her, my life was pretty vanilla: I had a set goal, and was meeting every expectation my very traditional Mexican family set out for me. Then, all of a sudden, I threw all of that out of the window and started taking risks I'd never imagine were possible – I graduated college in three years and moved to the most expensive city in Texas without a job just so I could finally live passionately. It's been a roller coaster ride with many ups and downs, but despite the uncertainties, we've always managed to land on our feet and have been blessed beyond measure. I love to tell our story to anybody that will listen so that people see that there is hope so long as you don't give up and are willing to take as many detours as life throws your way. Connect with me on Instagram at @cafesitamami.