Eating well during pregnancy can be challenging, for many reasons. You may be confused by conflicting information about what to eat, you may feel nauseous or have a protein aversion that limits what sounds good, or maybe you're just too tired to cook.
The good news is that prenatal nutrition doesn't have to be overly complicated. Needed is on a mission to empower women to be optimally nourished at every stage of the journey to motherhood. They offer nutrition products to complement a mama's diet to promote optimal health, especially on days when it's tough to get anything to stay down.
Let's walk through a day in the life of a pregnant mama using optimally dosed supplements to help meet her nutrition needs.
First thing in the Morning Prenatal Nutrition:
Hydrate!
The moment you wake up your body is craving hydration. You've just spent an extended period of time in a fasted state without consuming food or fluids, so it's the perfect time to intentionally replete your body with what it needs to thrive.
And when you're pregnant you need more than just water. Electrolytes like sodium, magnesium, and potassium maintain fluid balance, aid in blood flow and regulate blood pressure, and support bone health. As fluid needs increase in pregnancy and breastfeeding, so do electrolyte needs.
Mix 16 fl oz of filtered water with a packet of Needed's Hydration Support. This delicious powder contains an optimal balance of refreshing electrolytes and trace minerals, and unlike most other electrolyte supplements available, it does not contain any sugar and is lightly sweetened and flavored with only real fruit.
Breakfast:
We get it, whether you're short on time, navigating getting yourself and your toddler ready for school or just not a big breakfast eater, it can be hard to sit down for a balanced breakfast. Smoothies are a fantastic way to pack in nutrient-dense foods like berries, nuts/seeds, and leafy greens in a convenient and easily digestible way.
Make sure to pair your smoothie with adequate protein and fat. Research shows that protein needs are 39% higher in early pregnancy and 73% higher in late pregnancy than previously thought. Aiming for closer to 80 grams in protein in early pregnancy and 100 grams in late pregnancy may be more optimal, yet 40-67% of pregnant women fall below this level. Needed's Prenatal Collagen Protein is a clean, quick, and convenient way to meet your needs for this critical macronutrient. Better yet, your smoothie can double as your prenatal vitamin! Needed's Prenatal Powder is a slightly sweet vanilla-flavored powder even nauseous mamas love. Simply blend the Prenatal Multi Powder in your morning smoothie and you've just started your day with 24 optimally dosed vitamins and minerals you and your baby need to thrive!
½ cup frozen raspberries
1 tbsp. cacao powder
1 cup nut/seed milk of choice (we love the Three Trees, Joi, MALK, and Malibu Mylk brands if you can find them. Or, look for a nut/seed milk with no added fillers and gums)
1 scoop Needed Collagen powder
2 scoops of Needed Prenatal Multi
Optional: ¼ cup frozen cauliflower (for added creaminess and to get those veggies in!)
Instructions:
Place all ingredients in a blender and blend until smooth. Add more milk or water to thin out to your desired consistency. Using frozen ingredients will result in a thicker smoothie.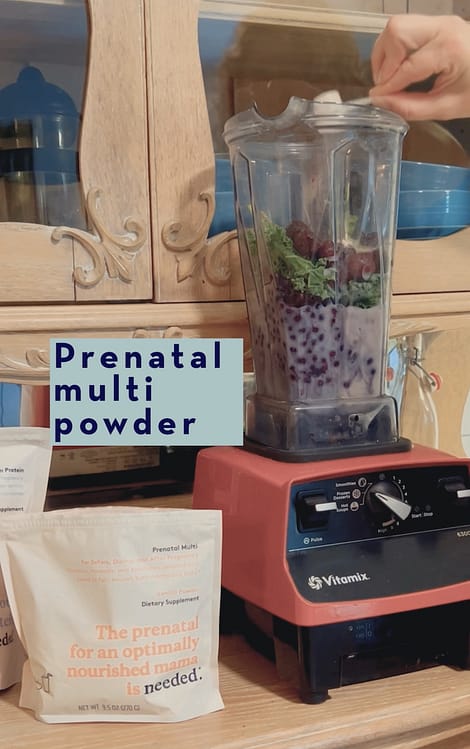 Mid-day Prenatal Nutrition
At lunch, take an Omega-3 supplement and a Pre/Probiotic to support what's missing from your diet. You can certainly increase your levels of omega-3 through foods like low-mercury fatty fish (salmon, mackerel, herring, anchovies, sardines); however, research finds that up to 95% of moms do not meet their omega-3 needs despite very clear, clinically-proven benefits before before, during, and after pregnacy. Most moms aren't eating fatty fish 3-4 times a week, so Needed's Omega-3+ is an easy-to-take capsule that includes both EPA+DHA, Choline, Lutein, and Zeaxanthin to support baby's optimal brain, nervous system, and eye development, mama's mood and more.
And for microbiome support, foods like sauerkraut and kombucha just aren't enough to support the specific microbiome needs of mamas. Mamas need specific strains that are designed to support the vaginal and gut microbiome. Needed's Prenatal Pre/Probiotic was designed by a team of perinatal and microbiome experts to boost maternal and infant immune functions; balance mood; optimize digestion; and support healthy blood sugar and blood pressure.
Evening Prenatal Nutrition
While it can be convenient to take a prenatal vitamin that includes iron, there are some downsides to that convenience. First, you may not need additional iron and too much iron in your body has negative effects on your gut microbiome and it can generate oxidative stress. Additionally, most iron found in prenatal vitamins offer a less expensive version that tends to be tough on the gut.
In addition, iron can interact negatively with other nutrients and block absorption of certain nutrients like magnesium and zinc. By dosing iron separately from your prenatal, you can promote optimal absorption of important minerals and reduce the risk of taking too much supplemental iron.
Talk to your health practitioner about testing your iron status before, during, and after pregnancy, and supplement only if you are falling short. This chart can help you tailor your dosage to your needs. Needed's Prenatal Iron is bound to glycine for better absorption and digestive comfort. Each small capsule contains 13.5mg or iron, so you can easily tailor your daily dosage to meet your needs.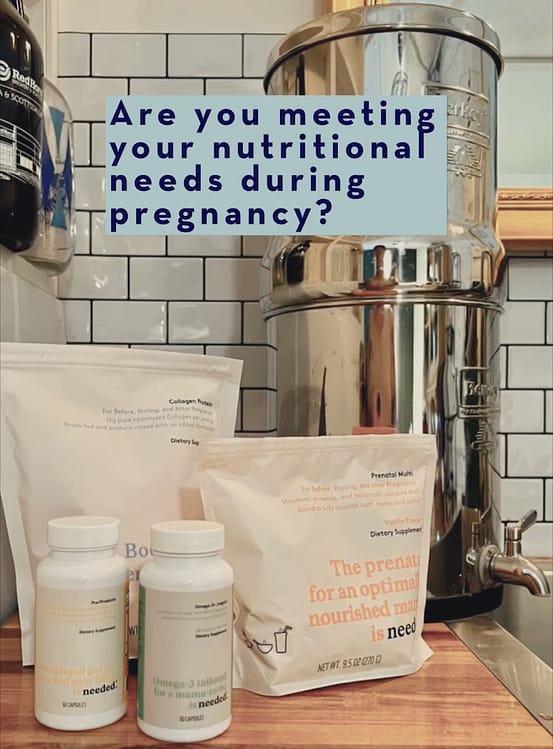 Let It Be Easy
We are huge fans of Needed's Complete Plan, which delivers unparalleled nourishment for every phase — whether you're thinking, trying, pregnant, postpartum, or deeper into your mom years!  Needed has simplified the routine down to the core 4 products you need (Prenatal, Omega-3, pregnancy-specific Pre/Probiotic, and ethically and sustainably-sourced Collagen), bundled together in such an easy and flexible monthly plan. 
Needed's Complete Plan truly meets all of your micronutrient, microbiome, and protein needs. Save 20% off your first order of Needed's Complete Plan or any of their other perinatal nutrition products at thisisneeded.com with code BIRTHHOUR.
*This post is sponsored by Needed. The Birth Hour only promotes products that we have personally tried and would recommend to our audience.