If you've been using essential oils during pregnancy, you may be wondering which essential oils are safe to use while breastfeeding, or which ones to avoid. Breastfeeding can be a wonderful bonding experience with your baby and many moms love knowing that they are giving their baby such amazing nutrition no matter how long they nurse their babies.
I've breastfed all three of my children and each time came with its own challenges which resulted in different lengths of time breastfeeding. Having essential oils in my mama toolbox with my most recent baby has been such a game-changer. It is so great knowing that I have one more way to address any challenges that come up.
3 things to consider before using essential oils while breastfeeding
1. Not every oil works the same for everyone
As with any use for essential oils, different people have different success with the wide array of options. In this post, I'll share what has worked for me as well as other women. One of the great things about my Young Living team (more info on joining here) is that we have a private Facebook group specifically for pregnancy, breastfeeding, and babies. It's my go-to place to get tips and questions answered!
2. Other factors affect your breastmilk supply
The main factor that affects your milk supply is how often you are emptying your breasts, either by nursing your baby or pumping. Your supply will work hard to meet the demand that you are putting on it. So the best thing to do if you are worried about your breastmilk supply is to nurse more often or pump after nursing sessions. That being said, there are some things that many women swear by, myself included, for giving a little extra boost to your milk supply.
3. Always consult your care provider
When it comes to pregnancy and breastfeeding, it's always a good idea to consult your doctor, midwife and/or lactation consultant before using any new medications, supplements, or essential oils.
6 essential oils that are safe to use when breastfeeding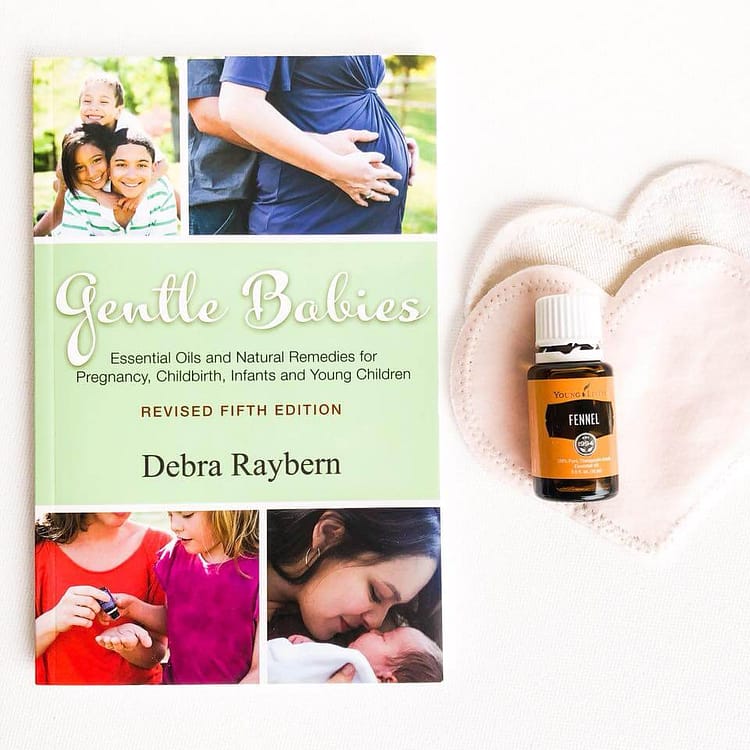 1. Fennel Seed
Fennel is the most commonly known galactagogue, which is something that increases milk supply. One of the great things about Young Living oils is that they have essential oils that are safe to ingest. These oils are labeled differently and are referred to as Vitality oils. To increase your milk supply you can take two drops of Fennel Vitality a day for up to 10 days. You can put it in a vegetable capsule and swallow or you can add it to your food or tea. Many people will do two drops in a teaspoon of honey. Please do not ingest any other brands of fennel essential oil.

You can also apply fennel topically, just one or two drops on your chest mixed with a carrier oil like coconut, olive, or jojoba oil, being sure to avoid the nipple area. If it gets near your nipple, just clean the area before nursing your baby. Fennel should be avoided during pregnancy.
2. Basil
Basil is another essential oil that is thought to be a galactagogue and can be used to increase milk supply. It also comes in the Vitality version from Young Living. You can either ingest it, I'd recommend using it in cooking because it's delicious (a drop or two to your spaghetti sauce is amazing!) or can be applied to your breasts. You can mix one or two drops with a carrier oil like coconut or olive oil and rub it onto your breasts, away from the nipple. You can also apply it to your spine around your bra line area. Basil can be used for longer than 10 days if desired.

3. Dill
Dill is another essential oil that is thought to be a galactagogue and can be combined with basil or fennel. Dill is considered a milder galactagogue so it may be a great option to start with and see how it goes. Young Living has a Dill Vitality option so you can try it in a vegetable capsule or try cooking with it. I especially love a drop of it in a chicken salad mixture!

4. Lavender
Lavender is probably my most used essential oil because it has so many amazing uses. Many of my favorite uses for lavender are especially great during postpartum and breastfeeding. Most especially, lavender helps promote a good night's sleep and relaxation. A common cause for the reduction of milk supply is stress because it inhibits the release of the hormones that promote milk production.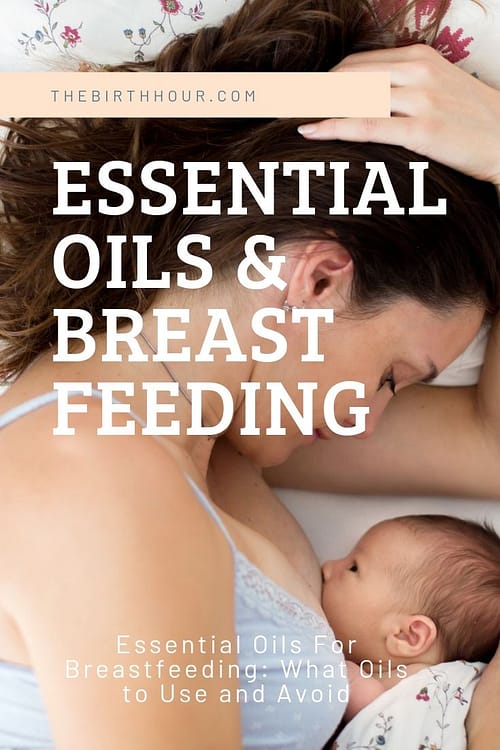 Simply roll some lavender on your wrists at bedtime or whenever you're feeling anxiety or stress and take some deep breaths. You can also diffuse it at bedtime to help you, and baby, sleep well. If diffusing in a room with a newborn start slow with just one drop. Again, this is why I love Young Living so much—because I trust the sources of their essential oils and know that there aren't any harmful fillers in there. Read more about their Seed to Seal process here.
5. Peace and Calming
Peace and Calming is a really special essential oil blend that will aid in stress relief as well. It's super potent, so just a couple of drops in your diffuser will feel your living room with the best calm vibes ever. Even just opening the bottle helps me feel more at peace—clearly they named this one well! It also now comes in the starter kit from Young Living which is so awesome!
6. Stress Away
Stress away is another blend that smells so good and helps with emotional support and stress relief. I kept a roller of this on me at all times during pregnancy and continue to do so while breastfeeding. Stress Away smells like vanilla and citrus combined and is so uplifting (also great as a perfume!). Again, anything that can help you relax, especially when pumping milk, is going to be good for boosting your milk supply.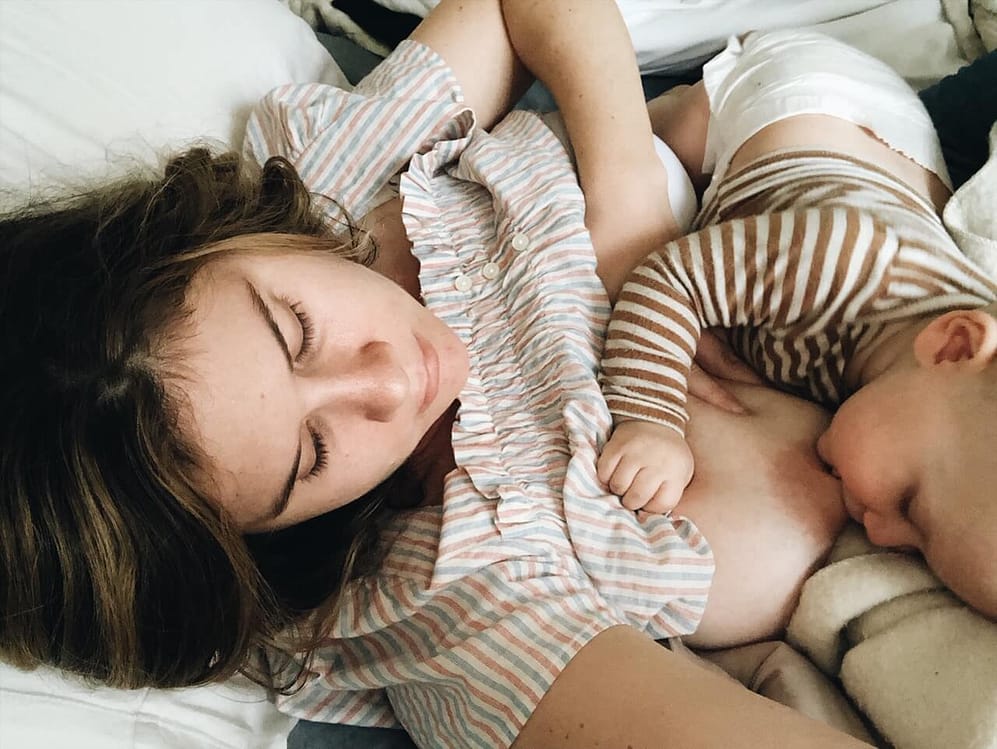 4 essential oils that are not safe for breastfeeding moms
1. Peppermint
Just like there are some essential oils and herbs that help increase milk supply, there are also essential oils that can decrease your milk supply. These are great to use when you are wanting to wean your baby but should be avoided until then. Peppermint was one of my favorite oils to use during pregnancy, but I stopped using it after my baby arrived. Some women even avoid it during the 3rd trimester because they are worried about its effect on their milk supply. I used it right up until my baby's birth and had an abundant milk supply, so use your judgment and consult with your care provider.
2. Oregano
Oregano is another oil that is warned against using while breastfeeding for its milk decreasing properties. Obviously, eating the oregano herb is fine because it is much less concentrated than the essential oil. On that note, the website KellyMom mentioned that generally topical applications are going to affect your milk as much as taking something internally so if you use Oregano EO in a roller blend and are applying it topically to the bottoms of your feet, for example, it's most likely not going to have any effect on breastfeeding.
3. Clary Sage
According to the book Gentle Babies, Clary Sage can be ingested and applied to your breasts to decrease milk supply. In contradiction, I've seen Clary Sage listed on certain websites as an essential oil to increase milk supply. However, Debra Raybern's book Gentle Babies is widely respected in the essential oil community so I personally will be avoiding Clary Sage while breastfeeding. I've seen the power of Clary Sage first hand when it jump-started my labor!
4. Wintergreen
It is generally considered okay to use wintergreen as part of a blend like my favorite, Deep Relief, because it is diluted and used topically. The Deep Relief roller is seriously life-saving when it comes to sore neck muscles from breastfeeding. It's probably a good idea to use Wintergreen in moderation though, even in a blend.
Safety tips for oils around Baby
Be aware of when and where you are using your essential oils around your baby. If using any hot oils like Cinnamon, Clove, Lemongrass, Oregano, Thyme, and Peppermint be sure to apply them to areas that won't be touching baby (your feet are a good option) and don't diffuse them in a small, enclosed space where baby will be. This is another good resource regarding using essential oils with a baby.
Essential oil recipes for nursing Moms
Create a more milk blend for nursing Moms
4 drops fennel + 2 drops Geranium in a 10ml roller ball + carrier oil. I prefer jojoba oil as sometimes other carrier oils will make my chest break out. You can see all of my favorite essential oil DIY products here.
2 ounces of Ningxia Red each day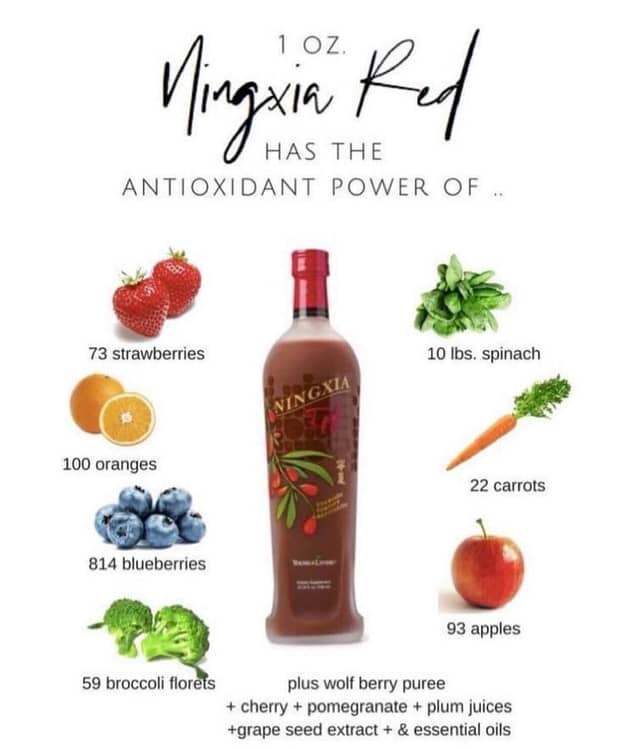 Another tip that I learned from our team Facebook group is to drink 2oz of Ningxia Red every day. Ningxia Red is an antioxidant drink made from goji berries. So many women told me about the combination of taking or applying fennel essential oil and drinking Ningxia Red boosting their supply in a big way that I tried it when I had a dip in my milk supply due to a virus I had and sure enough, I experienced so much support for my milk production from those two things together.
Recipe for Breast Comfort while Breastfeeding
Create a blend of two drops Melrose, 2 drops Lavender, and 2 drops carrier oil. Rub this blend on your breasts, avoiding the nipples, twice a day. I got this recipe from Betsy Bosom's Baby Book.
Other good things to try when dealing with engorged breasts are heat, massage, and frequent nursing.
Get started with essential oils
The way I got started with essential oils, was with a premium starter kit from Young Living, which comes with 12 of the most commonly used oils + your diffuser (I recommend the Desert Mist which has an amazing candlelight flicker).
It's such a great value & provides you with everything you need to get started. You'll get over $400 worth of product for only $165. You'll get lots of reading material with your kit and you'll also get access to our exclusive facebook community full of amazing resources like how to use each oil in your kit, which oils to avoid around kids or while pregnant/nursing, and all of the dilution ratios for individual oils.
We have free online classes, ebooks, live facebook hangouts & search functionality that will help you navigate through any questions you might have. I use the search bar in our groups every single day to get questions answered because I'm always learning too and there is SO much knowledge there! It really does matter who you sign up with and the FB groups are a huge perk of joining me! I also send all of my new members this beautiful hand painted art print that you'll want to frame in your home!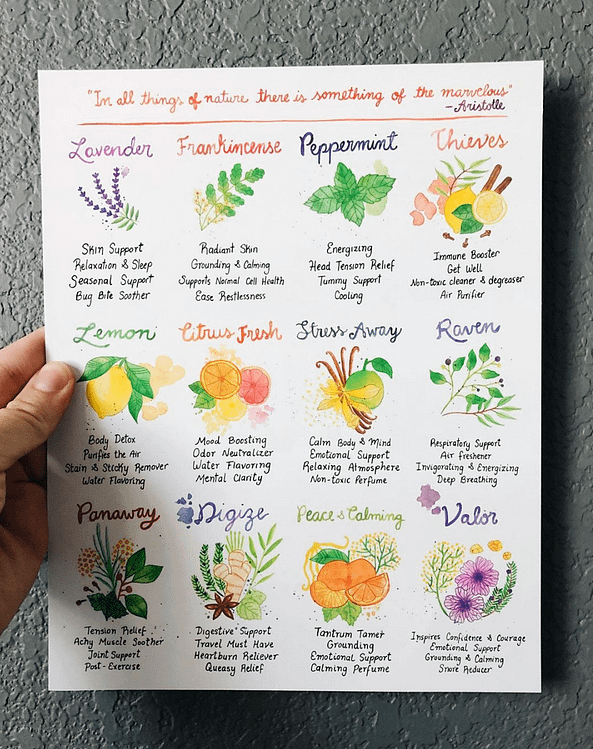 Conclusion
So many women stress over their milk supply while breastfeeding and it can be hard to know if you have a low supply or not because each baby empties the breast at a different speed and not all women are able to pump as much as their baby can get when nursing. The amount of milk that you get during a pumping session is not necessarily a good indicator of your supply. The best way to know how much milk baby is getting is to consult with an International Board Certified Lactation Consultant (IBCLC) and do a weighted feeding where they will weigh your baby before an after a nursing session with a highly sensitive scale. You can find an IBCLC at ilca.org. I know how hard this can be, I've been there too and I'm cheering you on.

I've found so much support from my oils community in all things pregnancy and postpartum and would love to answer any questions you have about getting started. You can always reach out to me through the contact form on this site or on my oils Instagram account, @overlandhomestead
The content shared on this site, is not intended to be a substitute for medical advice or treatment. It's always best to check with a qualified health provider for questions you might have. Moreover, this information has not been evaluated by the Food & Drug Administration and is not intended to diagnose, treat, cure or prevent any disease.