When Morgan was 17 she found out she was expecting her first baby. She chose to see a midwife and have a hospital birth. Early on in the pregnancy she was diagnosed with Hyperemesis Gravidarum (HG), which lasted the majority of her pregnancy. She was induced at 40 weeks, and ended up with an emergency cesarean birth.
During her second pregnancy she suffered from HG again, and describes having a wonderful scheduled cesarean birth. After her 2nd birth she used a copper IUD for birth control which resulted in a tubal pregnancy when she was 9 months postpartum.
Unfortunately, due to the tubal pregnancy, she lost one of her fallopian tubes. However, when she went in for her six week follow up, she found out they were expecting their 3rd baby. This pregnancy went quite smooth, but she went into labor between 34-35 weeks, and when her son was born he was rushed straight to the NICU where he was intubated.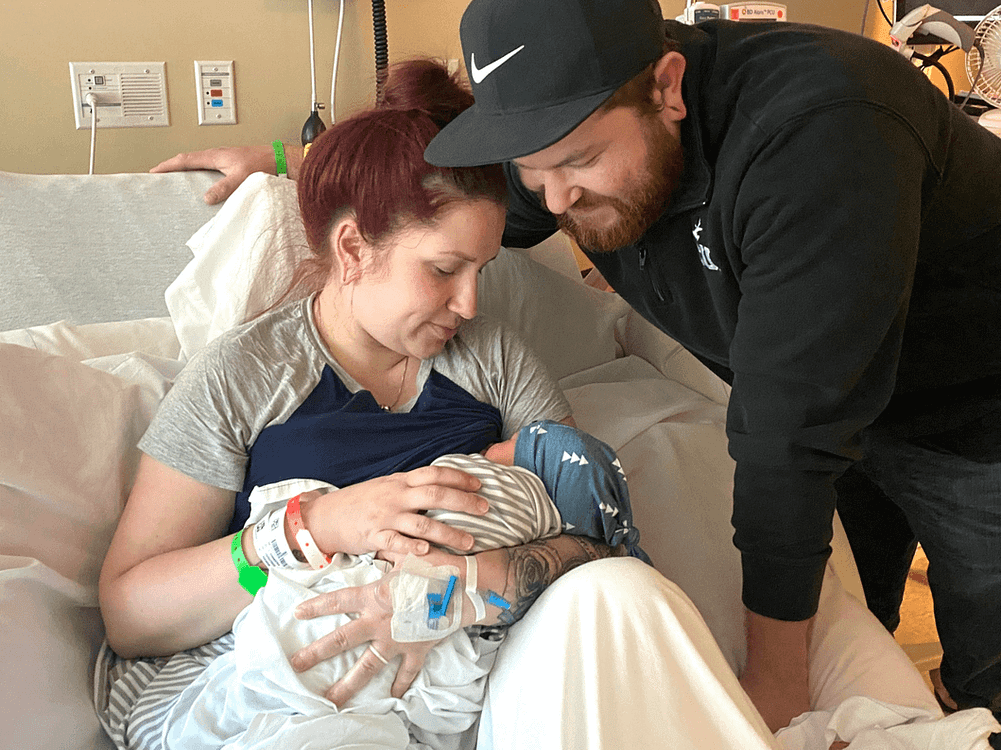 She and her husband then tried off and on for years to add a 4th child to their family. They suffered many losses and were told they could possibly be facing secondary infertility. In August 2019, they found out they were expecting their rainbow baby, and it was a wild pregnancy. Morgan had the worst HG out of all of her pregnancies. She also suffered from mastitis and anemia which resulted in iron infusions.
The final twist was finding out they would be having their baby during a global pandemic. This baby was born with a true knot in his cord and rushed to the NICU before Morgan could even see him. Due to COVID-19 restrictions, her husband could not go with their son to the NICU and Morgan was not allowed to go visit the baby until the next morning either. Despite the NICU stay, they ended up being discharged from the hospital much sooner than their previous births and Morgan has found postpartum during a pandemic to be full of challenges.
Morgan Sanchez Bio
Morgan is a mama to 4 married to her husband of 10 years.
Motif Medical
Part II of this episode was sponsored by Motif Medical. Motif designs insurance-eligible products for busy moms. With a focus on innovation and empowerment, Motif's line of breast pumps and maternity compression garments are sophisticated, yet discreet, and made to support mothers as they navigate new motherhood. Discover why moms are reporting more milk in less time with the Luna breast pump, and see how you can get it covered through insurance at motifmedical.com/birthhour.