Hospital Birth with Rectal Intervention
Birth of Vienna—December 08, 2015: Amber planned an unmedicated hospital birth with her first daughter Vienna using Vanderbilt Midwives & a volunteer doula. She found herself in the midst of transition feeling ill-prepared for coping through the pain & highly disappointed with the lack of care from the midwife on call. With the help of her doula, she pushed through transition using guided breathing.
However when it came time to push, her baby's heart rate began to decelerate & a resident doctor stepped in with no introduction or warning to perform an aggressive rectal intervention where he inserted his hand into her rectum to force a fast delivery of the baby's head. It was very painful & left her feeling traumatized for months. A different midwife later apologized to Amber and affirmed that the doctor's actions were aggressive & unnecessary. That experience ultimately set Amber on a journey to have an empowered fear-free natural birth at a Birth Center with her second, as well as to become a Birth & Postpartum Doula herself.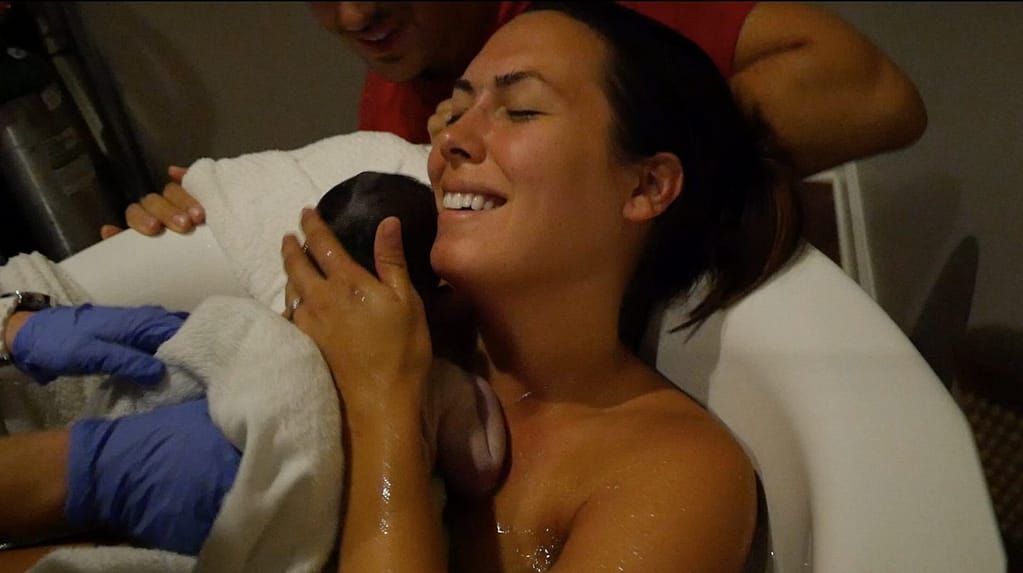 Baby + Co Fear-Free Birth Center Birth
Birth of Lydia—October 03, 2017: Amber planned her second natural birth at the Baby + Co Birth Center in Nashville. She immersed herself deep into the birth world and sought a highly educated and empowered redemptive unmedicated birth. Amber said she didn't just want a good birth experience, she wanted the best birth possible. She wanted fear-free, pain-free, orgasmic, supernatural—ALL the things! In addition to listening to a birth story a day, Amber created a birth team around her with her husband and sisters and gave them each roles & tools to help her cope through labor.
Her plans were shaken however when her baby turned out to be in a persistent transverse lie, which can only be delivered through C-Section. She took the reigns again and used Spinning Babies, Acupuncture, Webster Chiropractic, and Moxibustion to help her baby turn at 37 weeks. Amber went on to have her dream birth. She says she got all the things and then some! Her favorite memory was when her midwife finally checked her and she turned out to be 10 cm. Amber remembers laughing out loud and exclaiming "This is awesome!" because she still hadn't felt a moment of fear or pain and didn't even know she went through transition yet! Her daughter Lydia was born 20 minutes later in the water. Amber's first words after catching her baby were "That's how God designed birth to be! That was perfect!"
Amber Keeler Bio
Amber Keeler is a Birth & Postpartum Doula living in Middle Tennessee with her husband Nathan and two daughters, Vienna & Lydia. She is also a birth & lifestyle blogger at HandyApron.com and is an active Instagramer @doulaamber. Amber is passionate about helping women take charge of their birth experience and believes that with the right preparations, every kind of birth can be a positive empowering one! You can also check out Amber's Handy Apron blog.
Resource links
How to be your own Doula
Coping Tools & Techniques for a Fear-Free Pain-Free Childbirth
Aeroflow Breastpumps
Aeroflow Breastpumps helps new and expecting moms qualify for a free, top-brand breast pump through insurance. They offer all major pump brands including Medela, Spectra, Lansinoh and more. Visit Aeroflow's website today to get started on receiving your free breast pump through insurance! From dealing with insurance, getting a prescription and handling all paperwork – your dedicated Breastpump Specialist will take care of everything for you. Go to aeroflowbreastpumps.com/birthhour and they will know I sent you!