If you follow me on Instagram, you know that one of my biggest priorities is working towards a toxin free home and for us that has started with swapping out candles, cleaning products, and personal care stuff (deodorant, toothpaste, makeup, shampoo, etc.) for healthier, safer options!
I know it can be overwhelming to think about making these changes but that's what I love about our community! We are all in this together and once you get in, you'll have so many resources available to you (e-books, diy recipes, diffuser blend recommendations, tutorials, and more!) all for free!
When you buy a starter kit you are joining our community and we take that vote of confidence seriously! We have private Facebook pages designed to help you learn about your oils while finding new uses and recipes for them. You'll have thousands of new friends to assist you as they share their personal experiences and knowledge. I'm constantly learning new things too!
I also send you some happy mail and freebies when you sign up!
What's included in the Young Living Premium Starter Kit?
1. Diffuser
Your starter kit comes with a diffuser and you get to choose which one. I love the desert mist diffuser which can run up to 10 hours and has a candlelight flicker that's so cozy. The aria diffuser is an upgrade but is so unique, every time someone sees mine they ask about it!
2. 12 Essential Oils
You get the 12 most popular essential oils with your premium starter kit and the value is insane! Lavender, Stress Away, Thieves, Frankincense, Peppermint, Lemon, Valor, Peace & Calming, Digize, Citrus Fresh, Raven, and Panaway. These 12 oils alone will support sleep, focus, digestion, emotions, wellness, muscles, rough days, head tension, relaxation, kids, mama time and the men in your life.
3. Ningxia Samples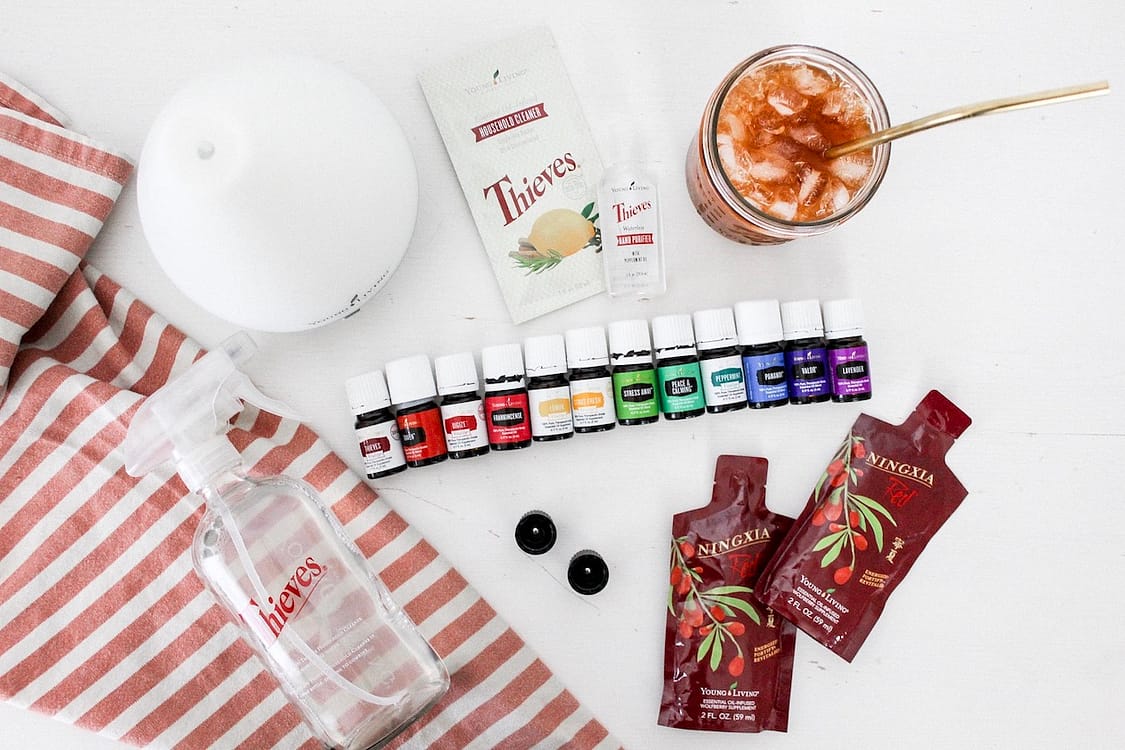 NingXia Red supports immune function, liver function, and eye health and is reported to increase energy. I can tell you it's more than reported to increase mine! I can tell within minutes how different I feel after drinking it! It's my daily pick-me-up and I've cut my afternoon coffee fix since I started drinking NingXia.
4. Thieves Goodies
You'll get some extra goodies from the Thieves cleaning line including the hand sanitizer which you'll quickly fall in love with. It smells amazing and doesn't dry your hands out because it's made with aloe.
5. Roller Fitments
You'll get two roller fitment tops so you can turn a couple of your essential oils into roll-ons right away. Favorites for this are usually Valor, Peace + Calming, Stress Away and Thieves.
6. Sample bottles
Premium starter kits come with 10 tiny bottles so you can share your essential oils with a friend or keep a smaller portion in your purse or take when you travel.
7. Product Guide
The Young Living product guide that comes with your premium starter kit is so informative and will help educate you on how to use the essential oils in your kit. It also has details on Young Livings other products like cleaning supplies, personal care products, baby and kids line, and makeup!
8. Essential Oil Magazine
This changes seasonally and is a great place for DIY recipes and inspiration for diving into the world of essential oils!
9. Member Resources
This is my favorite part and why it matters who you sign up with! We have a huge community group dedicated to teaching you and your team about every Young Living oil, supplement, Thieves product, remedy, guideline, success story and life hack! We have classes, books, live facebook hangouts & search functionality that will help you navigate through any questions you might have. I use the search bar in our groups every single day to get questions answered because I'm always learning too and there is SO much knowledge there! It really does matter who you sign up with and the FB groups are a huge perk of joining my team!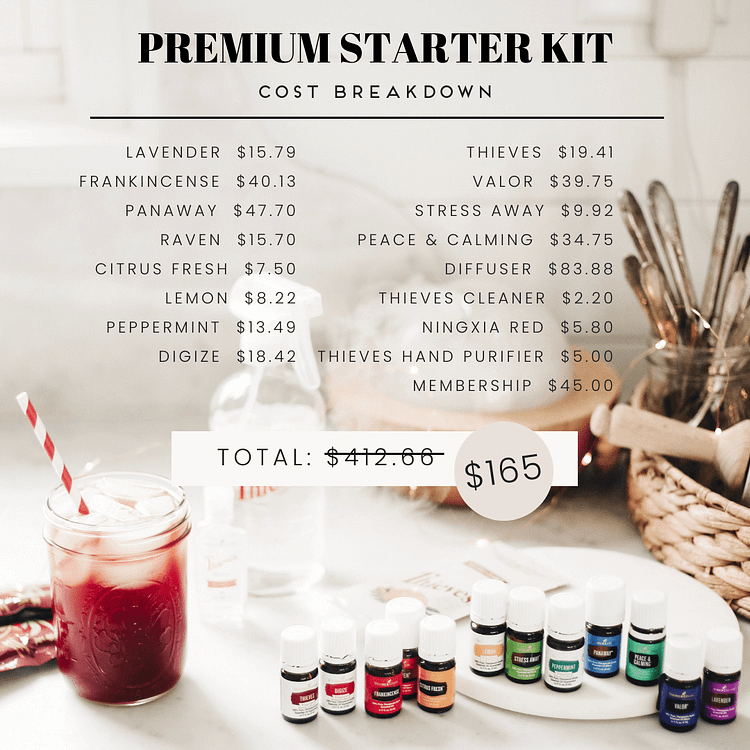 How much does the Young Living Starter Kit cost?
The premium starter kit from Young Living is $165 dollars and includes your membership, a diffuser, 12 of the most popular essential oils. The value of all of the products you get with the starter kit is more than $400 so the starter kit is the most cost effective way to get started with Young Living essential oils!
How do I sign up with a young living starter kit?
The Premium Starter Kit is how I recommend everyone get started with Young Living. It's the most bang for your buck, and how you get the Young Living wholesale membership + access to all of our team resources, groups. etc!! You'll get a diffuser, 12 of the most popular oils, and some great, useful samples like Ningxia pouches and Thieves goodies!
I'll also send you beautiful art print that you'll want to frame! Then the same day you sign up, I will send your Welcome email, add you to our FB groups, and you'll have started on this whole wonderful new journey.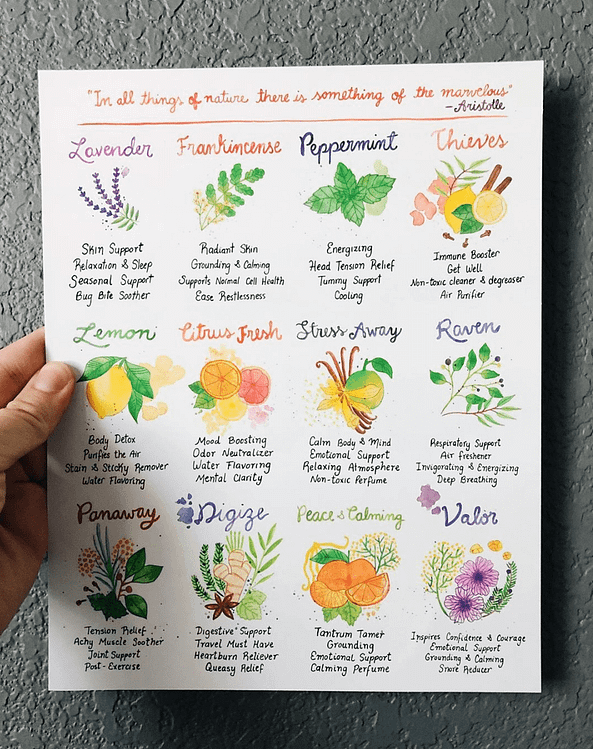 There's so much to learn and you will love having so many resources at your fingertips, and I'll be with you every step of the way! Non-toxic cleaning for your home, the best diffuser blends, overall wellness for you and your whole family, etc. We also have team exclusive resources like free ebooks, monthly online classes, mentorship and amazing groups including one specifically for pregnancy, nursing and babies as well as fertility.
Does it matter who you sign up with?
Definitely! YES. It matters who you sign up with. I get messages everyday from people (who have signed up with someone else) asking to use our team's resources and if I can help them with their oils. Do your research before you sign up, and pick an enroller and team you WANT to be a part of and that gets you inspired and excited! With our team you get all the resources, all the amazing DIYs, all the support, all the FB groups…all the fun!
I LOVE sharing and educating, and would be honored to do this with you. And one of my favorite things is all of the new friendships started with the women who sign up with me! Come link arms with me and let's get it going. I'll be with you every step of the way. And you'll also be a part of @caseyleighessentials, @grapefruitandgold and @goldendropsociety! Best team ever!
What Does it mean to be a Young Living Member?
Becoming a Young Living member does not mean that you have to sell the products, it's simply how you get access to the Young Living Virtual Office so you can shop with a wholesale discount (24% off). There's no commitment beyond getting your Premium Starter Kit. It's like a Costco membership except instead of just getting the card, you're getting $400 worth of goodies!
You will get a referral link that you can share with friends and every time someone uses your link you'll earn $50—a great way to pay for your starter kit right away!
How to sign up for your Young Living Starter Kit in 4 steps
Follow these steps: Be sure the member number 15023809 is listed as the enroller and sponsor so you'll be on our team. Also make sure to check Wholesale Member to earn your 24% off any future orders. (You never ever have to buy or sell anything in the future). Click Continue.
2. Select the Premium Starter Kit (PSK)
Choose the diffuser you'd like if you're going the oils route! Desert Mist is my favorite. The candlelight flicker is so good! The Aria is also gorgeous but does cost more. I've been talking about the Desert Mist because it's most people's favorite but you can check out more options below!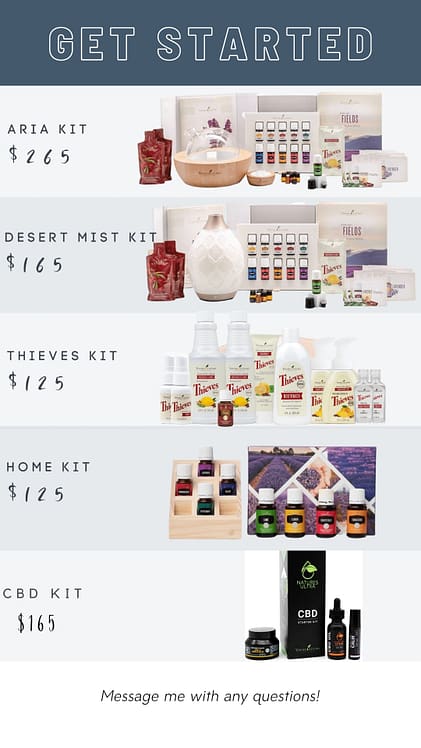 3. Sign up for essential rewards (if you'd like to)
You can get right on Essential Rewards if you want! This is our monthly autoship program where you get points back, freebies every month etc. To do this you must select your PSK, then click the box below, reading, "Use the selected Premium Starter Kit as my first Essential Rewards order and sign me up for an Essential Rewards subscription."
If you are going this route, you can then set up your order for next month! To be on Essential Rewards you simply need to spend $50/month on anything you'd like. Some of my favorite things to add right away are the Tranquil and Deep relief roller, Gentle Baby and White Angelica essential oils, any of the Seedlings baby products, and Inner Defense and Multigreens capsules. I recommend doing this even if you plan to cancel the next month because this way you will get a FREE promo product and you'll get 10 points back (equivalent to $10 back) to spend on something else!
4. Follow the prompts
Then follow the process all the way through to the end….yay! You did it! Once you've completed your order, you will receive a confirmation email and I will be in touch within 24 hours to get you all plugged into our free resources and send you your free gift!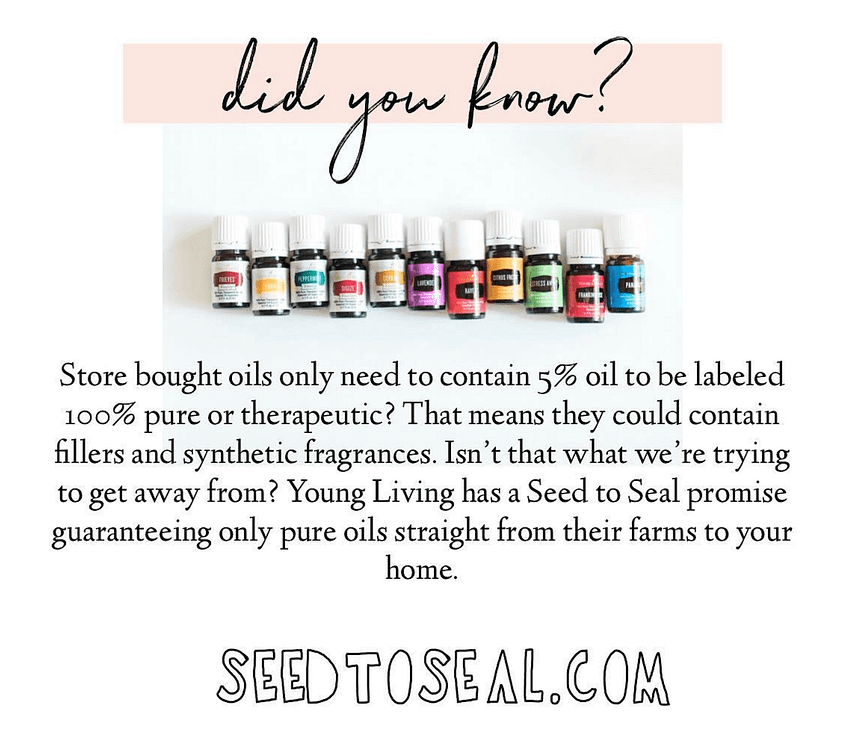 Should you sign up for essential rewards?
Enroll at any time!
Your monthly order has to be 50PV or above, 50PV usually equals around $50
Earn points back on every order! Points can be used like dollars when placing a Quick Order!
Every month Young Living releases that months exclusive promos, you can qualify for the freebies by placing your Essential Rewards order or Quick Order, there are ER exclusive promos that you don't want to miss though!
You can cancel at anytime, there is no contract or scary commitment!
Transfer buying!
Okay I get it, if you're like me, you're thinking "I don't have an extra $50/month in my budget right now" and I thought the same thing!! But, I was actually already buying products like toothpaste, deodorant, dish soap, supplements, etc. elsewhere and wasn't receiving money back, free products or any of the amazing benefits of essential oil infused products that I can get on Essential Rewards. You aren't spending more money, you are transferring your budget from Target and other places and choosing Essential Rewards instead! It also saves a lot of time to not have to research and wonder if you're buying things that are good for your health or not!
Again Essential Rewards is totally optional and you can start/stop whenever you want but I definitely recommend at least giving it a try so you can earn points back on every purchase, snag free oils and products to try, and kick the toxins and chemicals from your home!
Ready to get started? Click on the link here, or on the Get Started button below.