You may be new to essential oils or have used them for a long time but you're wondering which ones are safe to use with your new baby. We will go over some guidelines and tips for using essential oils with your baby so you can use them with confidence!
Are essential oils safe for babies?
Essential oils can be an amazing addition to your home and you may already be using them in lots of ways with your family but when baby arrives of course you are more concerned about their sensitive little bodies. Essential oils can be safely used with baby but you should keep a couple of things in mind first.
Always consult your healthcare provider
When starting anything new with your baby, it never hurts to ask your care provider! Some may not be knowledgeable in the use of essential oils so it may be important to you to find one who is.
Dilute heavily
Diluting essential oils is always recommended for people of any age because they are super concentrated. For babies especially, you're going to want to dilute oils even more! There's no one answer when it comes to diluting essential oils for babies but since I use Young Living oils, I like to follow their dilution guidelines. For ages 0-1 they recommend 8 drops carrier oil to 1 drop essential oil. A carrier oil that's great for babies is coconut or jojoba oil.
Start Slow
When starting to use essential oils with your baby it's a good idea to start slowly! When my littlest one was born, I liked to wear Lavender or a blend called Gentle Baby on my own skin and knew he would be smelling it as well when we cuddled. If you're using it on your baby, after diluting do a test patch on their leg to make sure they don't have an adverse reaction before using again. Diffusing before using topically is a good idea (again use less drops than you normally would), and babies shouldn't be ingesting oils.
10 essential oils that are safe for babies
1. Gentle Baby
Gentle Baby is a special blend from Young Living formulated with Coriander, Geranium, Palmarosa, Lavender, Ylang Ylang, Roman Chamomile, and other sweet-smelling essential oils. It will become one of your favorites to use on your baby. It smells so dreamy (basically smells like a new baby!), offers a sense of calming and is so perfect for baby's skin (remember to dilute!).
The uses for Gentle Baby essential oil are countless, but its soft fragrance is perfect for diffusing in your home or child's bedroom in the evening or for applying topically because the Gentle Baby blend has all kinds of great oils for your skin. I use it in a homemade diaper balm for my baby!
2. Lavender
Lavender is known for bringing on the sleepy vibes and is a well-loved essential oil for use in baby's nursery. Simply use one or two drops in the diffuser or create your own linen spray to use in baby's crib before bedtime.
3. White Angelica
White Angelica is a blend of Geranium, Ylang Ylang, Melissa, Rose, Bergamot, Myrrh, Northern Lights Black Spruce, Hyssop, and Sacred Sandalwood. It's citrus and woodsy and smells like heaven. Use this oil to create positive vibes and feelings. I love to wear it as perfume and then cuddle with baby and it's one of our absolute favorites to diffuse in baby's room at bedtime.
4. Roman Chamomile
Roman Chamomile is another wonderful essential oil for sleep and calming vibes. You may already drink chamomile tea before bed and be familiar with the fragrant scent. I love to diffuse Chamomile with Lavender and Cedarwood as well as use it in a roller before bedtime.
5. Cedarwood
As I mentioned above, I love to add Cedarwood to my bedtime diffuser blends as well as homemade rollers. You can even use the roller on baby's feet before bed just remember to dilute more than you would when making a roller for yourself.
6. Copaiba
This has been a very comforting oil to my baby when he's getting a new tooth. We dilute one drop in a tablespoon of coconut oil and apply it to his jawline. At age15 months, he now asks for his "oils" when a new tooth is trying to come in.
7. Citrus Oils – Bergamot, Tangerine, Orange, Lemon
There are so many amazing citrus oils that can be so lovely to use with your baby. I especially like to add a drop of a citrus oil in with other oils like lavender or cedarwood for a sweet dreams bedtime diffuser blend.
8. Ylang Ylang
Ylang Ylang is a very special essential oil that you will often see listed on the ingredients of high end hair and skin products. I love to add it to our baby lotion or body wash for a baby spa-like experience! It's also in the Gentle Baby blend that we love so much.
9. Peace & Calming
Peace & Calming is one of Young Living's most popular blends and comes in the starter kit. It's a blend of Ylang Ylang, Orange, Tangerine, Patchouli, and Blue Tansy. It has a very calming and sweet smell and we use it often during our bedtime routine or even prior to that when the kids are all a little wired. It's always such a nice reset for the whole house and is a very potent essential oil blend that only requires a couple of drops in the diffuser to fill the whole room with the best vibes!
10. Calm
This is a newer blend from the Young Living Seedlings line which was especially formulated for babies. It includes Lavender essential oil, Coriander essential oil, Bergamot essential oil, Ylang Ylang essential oil, and Geranium essential oil. It has a lot of similarities to Gentle Baby and is pre-diluted with coconut oil for your little ones.
9 essential oils you shouldn't use on your baby
There are a few essential oils that should be avoided with babies. Generally, they are going to be the strongest smelling oils that can be too much for sensitive little noses. You will also want to be sure you are using a reputable brand because so many essential oils have fillers and synthetics that may or may not be listed on the label. This is by no means an exhaustive list but these are the essential oils that are frequently mentioned in my research as oils to avoid with babies and small children.
Basil
Sage and Clary Sage
Wintergreen
Peppermint
Eucalyptus
Hyssop
Idaho Tansy
Juniper
Basil
How to use essential oils on your baby
Baby massage
Baby massage has many benefits for your little one including soothing, bonding and even easing discomforts like tummy troubles. Try adding a drop of lavender, Gentle Baby, or the Calm blend to a carrier oil like coconut oil and then giving your baby a massage. There are lots of videos on youtube on baby massage and this book is also a great reference.
Bath time
You shouldn't drop essential oils right into the bath water because babies are likely going to get some water in their eyes! Plus essential oils need a carrier to blend with or they will simply float on the surface of the water. I recommend adding your favorite essential oils to use with baby into the non-toxic bath products you're already using.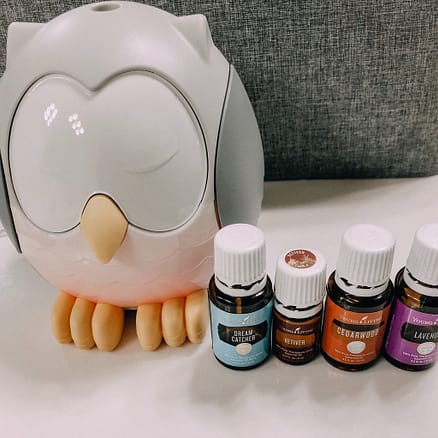 Diffuser
This is our absolute favorite way to use essential oils with our little ones. We have integrated the diffuser into our bedtime routine and will add a couple of drops of our favorite sleepy oils (lavender, white angelica, roman chamomile, cedarwood, and more) into the diffuser and turn it on while we are getting pajamas on and reading books. It creates the most peaceful vibes for both parents and baby!
DIY Baby Products
Baby's don't need a lot of products for their skin and I love to keep it really simple. I like to be able to pronounce all of the ingredients in the products that I use on my baby. One of my favorite things to make is a homemade diaper balm for our baby. I simply melt organic olive oil with beeswax in a double boiler and add 2 drops of lavender, 2 drops gentle baby, plus one drop cypress in a 1 oz jar.
Ready to get started using essential oils?
Essentials are a great addition to any home whether you have little ones or not! You will love the aromatic uplifting vibes they bring to your day and the more you dive into using essential oils, the more you will learn about how to integrate them into other areas of your life. I'd love to be the one to help you discover essential oils and if you're curious about how I got started using oils, this is a great place to start.