To listen to this episode, and more than 350 other birth stories in The Birth Hour archives, join our listener supporter group here!
Despite an autoimmune condition that can interfere with fertility, Amy Leigh became pregnant easily with her first son. It was uneventful – besides nausea until 23 weeks, and having to cut off her wedding ring due to being so swollen. Amy Leigh approached birth with great avoidance and the hopes that she would get an epidural, sleep through labor, wake up, and push a baby out without feeling any of it. She was instead induced with preeclampsia and her epidural did not work. This left her facing the reality of birth stuck in bed, hooked up to wires, and drowsy on magnesium. After pushing for 2 hours, her son was born, whisked away to be bathed, and Amy Leigh was left with a placenta that had to be manually extracted. Migraines, NICU time, constant pumping, and sleep deprivation finished out this traumatic experience that left her afraid of having another child.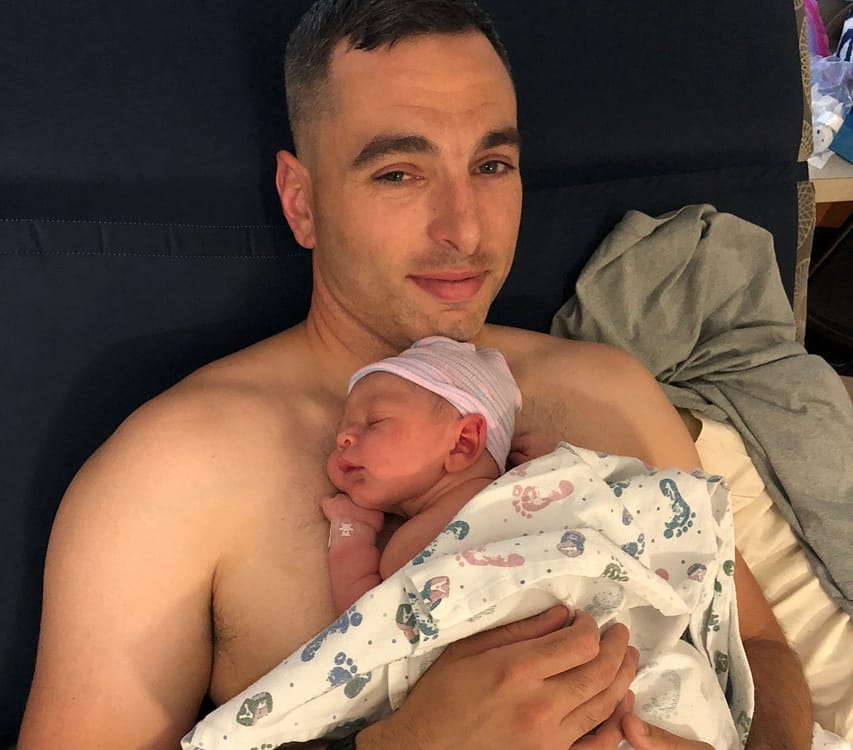 After learning of her pregnancy with baby 2, Amy Leigh sought the help of a perinatal therapist. She was able to process and grieve her traumatic birth and approach the new birth with an open heart. Amy Leigh and Kevin hired a doula and worked with supportive OB. Her second son came on his own a few days before his due date. She decided to go for it at the last second and try an epidural again- this time it worked (inserted right as she hit transition). She and Kevin rested all night, and she peacefully gave birth with her doula and husband by her side, all within 12 hours. Her son remained on her chest for 2 hours after birth and was not bathed until the next day. With both births, a military PCS move followed shortly after, though the second time she was on a plane with a 2 year old and newborn just 12 days after giving birth.
Amy Leigh Fernandez Bio
Amy Leigh is a mom to 2 boys (Ryan, 3.5 years and Finn, 14 months), partner to Kevin. They are a military family living in Southern California with their boys & two black labs. Amy Leigh was inspired by healing from her own traumatic first birth to use her role as a clinical social worker to help other families. She is a licensed therapist for Hold Space Healing, a private psychotherapy practice in Temecula, CA, where she works with new moms, perinatal mental health and all "mom life" issues, as well as military family readiness and weight-inclusive wellness for those who want to stop dieting and make peace with food and body. She is currently working on her Perinatal Mental Health certification (PMH-C) with Postpartum Support International. Contact- holdspacehealing.com or @holdspacehealing on Instagram.
Resources
Motif Medical
Motif Medical designs insurance-eligible products for busy moms. With a focus on innovation and empowerment, Motif's line of breast pumps and maternity compression garments are sophisticated, yet discreet, and made to support mothers as they navigate new motherhood. Discover why moms are reporting more milk in less time with the Luna breast pump, and see how you can get it covered through insurance at motifmedical.com/birthhour.