It's amazing how many new products have popped up since my last baby was born 6 years ago. With baby #3 and working in the baby industry, I got to try a lot of new products as well as some old favorites. I wanted to round them all up to share with you. Let me know in the comments if you have any questions about any of them.
Create a Good Sleep Environment for Baby
When your baby is first born they will need SO much sleep that they can pass out just about anywhere… usually on your chest after a feeding. But as they get older, you'll want to put some thought into creating a proper sleep environment for them.
Diffuse Essential Oils in Baby's Room
I got really into essential oils during my pregnancy and especially found so much support from them for my sleep. So of course I was excited to try some of the gentler oils with baby. We only use Young Living essential oils because they are 100% pure therapeutic grade and honestly just work better than any other brands I've tried. When baby was still sleeping with us we'd just diffuse one or two drops of lavender, frankincense, or a blend called Gentle Baby right before bed. Now that he's in his own room we do the same and have since discovered that he seems to sleep really well with White Angelica or Peace & Calming. Most of these oils come in the Young Living Starter Kit if you want more info about getting started.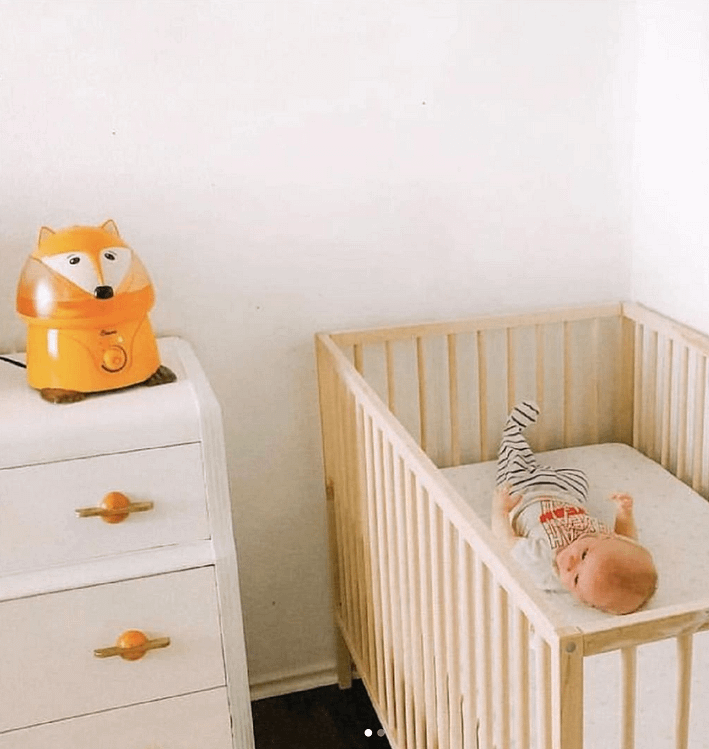 Use a Cool Mist Humidifier
Babies only breathe through their noses so if they are congested it's very difficult for them to get good sleep. We love Crane's cool mist humidifiers (the cool mist part is really important) because they are super easy to use and clean and are freaking adorable. They come in all different animal themes as well as sleep drop styles. We've been partnering with Crane for quite a while and they offer the coupon code BIRTH19 to my audience for $10 off +free shipping.
Make the Room Super Dark
Babies are used to complete darkness in your womb and they like a dark room to sleep in too. I know when they are brand new they can sleep anywhere and anytime but as they get older you're going to want to create a dark room which is easy to do with some quality blackout curtains.
Use a White Noise Machine
Again, babies are used the loud white noise of being in your belly so they love a good, loud white noise machine. Not all of these are created equal and you definitely don't want songs or nature sounds. I interviewed a sleep expert on the podcast and they actually said pink noise is best. My favorite ones are from Lectrofan.
Baby loungers
My husband and I have chosen to co-sleep with all three of our kids for the first six months or so. With our first two children we just had them in bed with us and practiced safe co-sleeping guidelines. With our new baby we tried out a couple of baby loungers. There are many brands on the market from large and small companies but the two we had were the DockaTot and the SnuggleMe Organic. We like them both for different reasons. The SnuggleMe really hugs baby and keeps their knees up with baby's love when they are having tummy troubles. The DockATot has a bottom to it so it was more comfortable for travel with we would put baby down in it on the hard floor. We also ended up using the DockATot longer because it felt like he grew out of the SnuggleMe faster.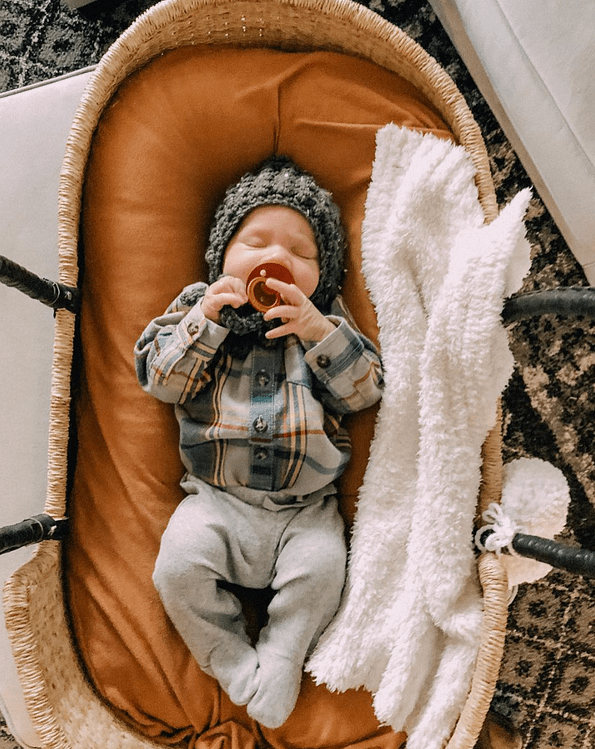 Swaddles and Sleep Sacks
Ok there are a million different swaddling and sleep sack options on the market so it can be hard to know what to use and they aren't exactly cheap either. Luckily once you find one your baby loves, you really only need two. Here's what worked best for us.
Getting Baby to Sleep While Traveling
I discovered a couple of products to make travel more easy this time around and am excited to share them!
Remember, All Babies are Different
It's good to keep in mind that no two babies are going to have the same sleep habits but having some awesome products on hand will hopefully help! I also highly recommend Taking Cara Babies sleep course for newborns and older babies and the Happiest Baby on the Block.