Justina conceived in 2019, and saw the same midwife for all of her pregnancy care and for her baby's birth. Justina gives credit to the midwifery model of care and a Hypnobirthing course for her positive birth experience. 
She kept active as a part-time group-fitness instructor and continued teaching spin classes until 22 weeks. She enjoyed swimming and walking as exercise in her 3rd trimester.
Justina planned for an unmedicated birth. Her vision was to labor in the tub and that her baby would emerge by using relaxation techniques and in a very peaceful way. Her birth plan was to limit any intervention, no medications, and allow her baby to come when she was ready. 
Justina endured 36 hours of prodromal labor at home until "real" labor began in the middle of the night.  She labored in the tub at the hospital, which allowed for tub-labor but not birth.
Once the baby's heart rate decelerated, there was a team effort to get the baby out quickly and safely. Justina was instructed to push on all-fours and that was how she ultimately birthed her baby girl.
Something about that position allowed the baby to be in better alignment and to avoid tearing. The nurses helped her flip over with the cord still attached. They did skin to skin and the baby breastfed. Justina was surprised by how much coaching she needed for pushing even during an instinctive birth.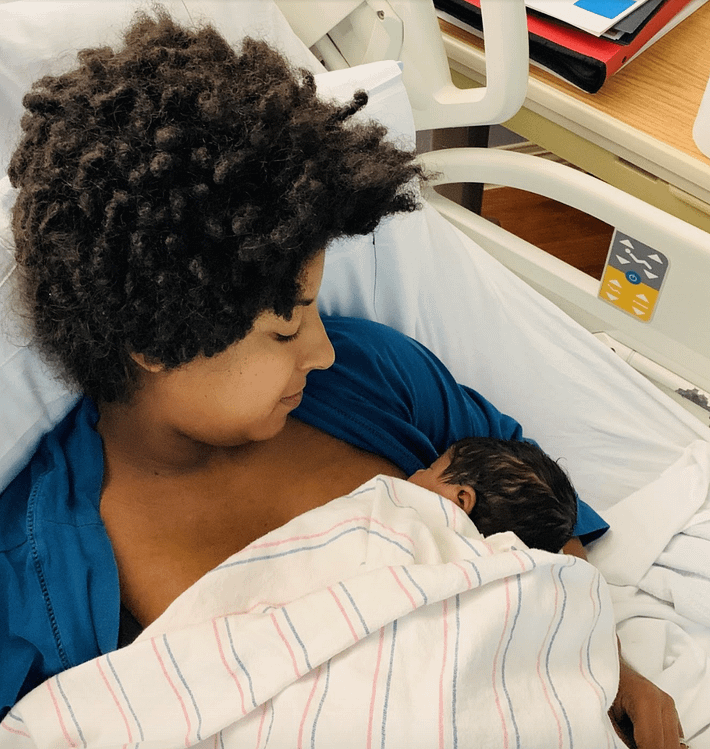 Justine Perry Bio
Justina Perry is a Physical Therapist from New Bedford, Massachusetts who specializes in pelvic health. She lives with her husband and 1 year old daughter in their hometown. Where to find me: linknd Justina Perry southcoast.org/pelvicrehab
Resources
Clue app
La Leche league
Evidence Based Birth
Peanut
Peanut is an app that helps you make meaningful connections throughout all stages of motherhood. Peanut provides a safe space for mothers, expectant mothers and those trying to conceive to build friendships, ask questions and find support by introducing you to others nearby who are at a similar stage in life, Peanut provides access to a community who is there to listen, share information and offer valuable advice: Whether it's understanding IVF, adoption, pregnancy, baby's first years or beyond, Peanut is a place to connect with other moms in the thick of it.
Download the app for free today!